Content posted in February 2002
Closer Look: Intel lags in chipset support

Blog
2/26/2002
Post a comment

SAN FRANCISCO -- Intel Corp., which prides itself on being a technology leader, is definitely a follower in chipsets. That was never more clear than at this week's Intel Developers Forum here, which is replete with what the chip giant likes to call "technology breakaways." But even though Intel puts the best face on it, in chipsets the technology pacer is "break a way back."
Closer Look: The low-tech war on terrorism

Blog
2/20/2002
Post a comment

If the Sept. 11 terrorist attacks were low tech, many of the biometric safeguards against them are surprisingly low tech as well. The airport handprint identity systems, face recognition systems and fingerprint matching techniques use anemic hardware. And work astonishingly well. That bodes well. The nation may not have to spend a fortune installing biometric security and screening systems at airports, border crossings, ports of entry and access to sensitive facilities. Selecing the technologi
Closer Look: China puts out welcome mat for Taiwan fabs

Blog
2/11/2002
Post a comment

China is throwing out its best welcome mat to attract Taiwan Semiconductor Manufacturing Co. and United Microelectronics Corp. to open world-class fabs in the country. Despite the Taiwan government dragging its feet on letting its premier chip makers go to the Middle Kingdom, China is ready any time the top foundries get the green light. In fact, Chinese cities are aggressively competing for those fabs -- a la the jockeying of U.S. states to entice fabs to site within their borders.
Closer Look: Eerie echoes of a Far East debacle

Blog
2/5/2002
Post a comment

The more I read about the Enron financial debacle, the more it looks like an "American chaebol." All that convoluted switching of assets and loans between myriad subsidiaries and affiliates. All the market hype even when the bottom was falling out. And even this coincidence: Arthur Anderson, Enron's auditor, was called in to evaluate the assets of financially troubled Hynix Semiconductor Inc.



In conjunction with unveiling of EE Times' Silicon 60 list, journalist & Silicon 60 researcher Peter Clarke hosts a conversation on startups in the electronics industry. One of Silicon Valley's great contributions to the world has been the demonstration of how the application of entrepreneurship and venture capital to electronics and semiconductor hardware can create wealth with developments in semiconductors, displays, design automation, MEMS and across the breadth of hardware developments. But in recent years concerns have been raised that traditional venture capital has turned its back on hardware-related startups in favor of software and Internet applications and services. Panelists from incubators join Peter Clarke in debate.







8/28/2015
4:13:54 AM
August 2015 Cartoon Caption Contest: "Beware of Geeks Bearing Gifts"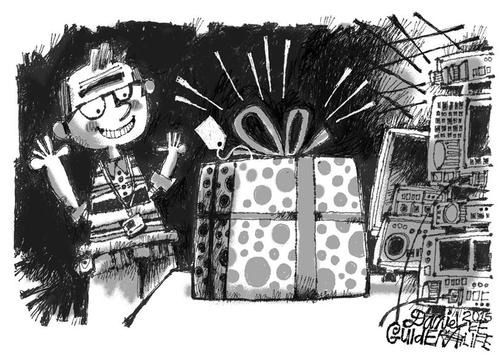 "Your caption here!"

99 comments
Datasheets.com Parts Search
185 million searchable parts
(please enter a part number or hit search to begin)