Content posted in April 2002
Closer Look: Where has the $40 billion gone?

Blog
4/17/2002
Post a comment

Airport and airline security -- the very concern triggered by the 9/11 attacks -- has been slow to get off the ground. A few airports, such as San Francisco International, are exemplary by having almost total biometric personal identification systems for all secure areas. But numerous General Accounting Office reports and the Department of Transportation's own audits reveal still troubling security gaps in the majority of the nation' s air terminals.
Closer Look: Passives more important than ever in 3G phones

Blog
4/10/2002
Post a comment

Here's a quick quiz for everyone connected with the next generation 3G cellular phone: what are the most critical parts in the new handset?Reminiscent of "for want of a horseshoe nail, a kingdom was lost," the absolutely critical parts are the lowly, mundane penny-cost passive components. And this is never more true than with the leading edge 3G handset with all its gee-whiz electronics.
Closer Look: Why you won't see 3G for awhile

Blog
4/3/2002
Post a comment

Despite the hype, don't look for the U.S. to go rushing into the new high speed data Third Generation cellular phones any time soon. In fact, Europe and Asia will probably be well established in 3G before the U.S. ever gets started. The reasons are quite simple: * The U.S. telecom community, market and government are busy dodging the quintessential issue of who pays for installing the costly new 3G infrafrastructure. * American high speed, large file downloaders will probably use wireless PC
Valley View: Forget about conventional wisdom

Blog
4/1/2002
Post a comment

Almost everyone in the electronics industry was caught off guard by the market meltdown of 2001. Widespread predictions of double-digit growth were turned on their head as the chip industry suffered its worst yearly decline ever. How could everybody have been so wrong?



In conjunction with unveiling of EE Times' Silicon 60 list, journalist & Silicon 60 researcher Peter Clarke hosts a conversation on startups in the electronics industry. One of Silicon Valley's great contributions to the world has been the demonstration of how the application of entrepreneurship and venture capital to electronics and semiconductor hardware can create wealth with developments in semiconductors, displays, design automation, MEMS and across the breadth of hardware developments. But in recent years concerns have been raised that traditional venture capital has turned its back on hardware-related startups in favor of software and Internet applications and services. Panelists from incubators join Peter Clarke in debate.






8/30/2015
4:46:46 AM
August 2015 Cartoon Caption Contest: "Beware of Geeks Bearing Gifts"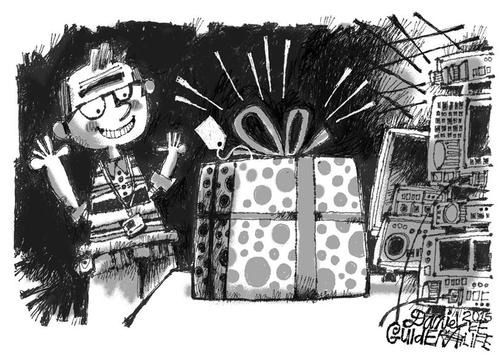 "Your caption here!"

108 comments
Datasheets.com Parts Search
185 million searchable parts
(please enter a part number or hit search to begin)