Microchip's New PIC16F18877s: Peripherals Are Central
Jack Ganssle, Chief Engineer, The Ganssle Group

8/28/2015 02:22 AM EDT

0 comments
post a comment
Microchip's new PIC16F18877 MCUs offer a lot of interesting peripherals. The ADC is singularly powerful and complete.
Ever-innovative Microchip has a couple of new families of 8-bit microcontrollers. The CPUs remain about the same as in the rest of the PIC16 family, but the peripherals offer some pretty interesting capabilities.
I find the companyís part numbers baffling and can no longer correlate feature sets to numeric designations without a cheat sheet. The latest PIC16F18877 family comprises quite a few variants with different memory sizes.
As an old embedded guy, Iím always fascinated by the boundary where digital hardware, firmware and analog intersect. In the early days of micros it was really hard to read analog signals. There were no monolithic A/D converters; you had to buy an epoxy-potted module to sample signals, and 12 bits was about the max resolution that was possible. These things cost hundreds of dollars back when inflation hadnít hollowed out the greenback. Long defunct companies (like Analogic and Burr-Brown) made these, as well as some still with us (e.g., Analog Devices). Conversion speeds were typically in the tens of microseconds.
The following picture shows a typical 12-bit unit dating from the mid-70s. The MAS-1202 retailed for $270, or about $1100 in todayís dollars, and was an enormous 4 by 2 inches: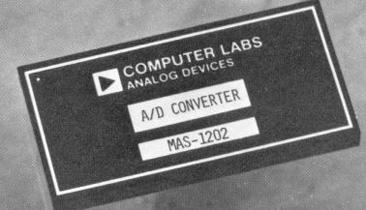 How things have changed! Can you imagine paying a kilobuck for an ADC of, by todayís standards, fairly uninspiring performance?
(Potted modules of all sorts were really common, especially for analog components with tough specs. Around 1973 I went overseas for a month to support our products. We used a 40J potted op amp from Analog Devices, which had a very high failure rate. I replaced a sickening number. Finally done, I left Japan to head home and was assigned seat number 40J. Of course, it was broken.)
Microchipís new family has, as is typical with modern MCUs, an ADC on board. But this one is very different from that 1970s device, and is also unlike any 2015 A/D Iím familiar with. A couple of features stand out.
This story continues on EE Times' sister site, Embedded.com.