Gululu Smart Water Bottle Keeps Kids Hydrated
Max Maxfield, Designline Editor

5/24/2016 04:50 PM EDT

9 comments
post a comment
Meet the Gululu, the spiritual descendent of the Tamagotchi, but one that is more suited to (virtual) life in the 21st Century.
Do you remember the Tamagotchi? This is a small, handheld "virtual pet" that first leapt onto the scene in 1996. The underlying idea is that Tamagotchis are an alien species that deposited eggs on Earth to see what life was like, and it is up to the players to raise these eggs into adult creatures. The organisms will develop differently depending on the care the player provides, with better care resulting in smarter and happier creatures that require less attention.
You may think this is a bit silly, but kids love these things. By 2010, over 76 million Tamagotchis had been sold world-wide, and the little scamps keep on coming back. Even with their rudimentary graphics, which are incredibly simplistic by today's standards, Tamagotchis remain on sale to this day.
All of which leads us to the Gululu -- a smart water bottle that we might think of as being a spiritual descendent of the Tamagotchi, but one that is more suited to (virtual) life in the 21st Century. Quite apart from anything else, these water bottles come in a selection of cute colors and boast mega-cool interactive graphics.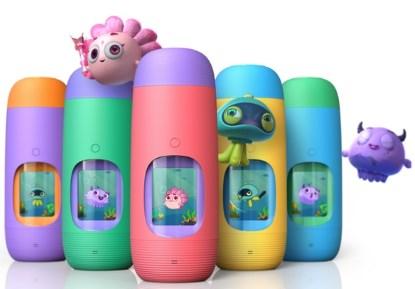 Gululus have touch sensors on the sides and they respond to being stroked. They also have motion sensors that can detect the orientation of the bottle and what's happening to it (shaking the bottle will cause your "pet" to become dizzy, for example).
If you bring two Gululus close together and shake them, then their creatures can "swim" between bottles and play with each other. But the main thing is that the Gululu can sense when it's been filled with water and also when its owner subsequently takes a drink of that water, at which time the creature will perform a back-flip and give its owner a "thumbs up." Also, as you can see in this video, the kid can check his or her water quaffing progress on a map that reflects their daily goal target.
As it says on the Gululu Kickstarter that just launched today as I pen these words:
Animated pets thrive in and explore the Gululu Universe as your child drinks more water. Sensors in the hardware, together with educational and social software, let your kid care for their virtual pet and make new friends. Gululu helps children develop healthy water-drinking habits that last a lifetime.
Even better for the parents is that, once the Gululu is connected to WiFi, it uploads its data to the cloud, thereby letting the parents monitor their kids' water-quaffing progress on their smartphones or tablets using the free Galulu apps available from the Apple and Android stores.
Is developing healthy water-drinking habits really a problem? Well, according to this report in the Harvard Gazette: "More than half of all children and adolescents in the United States are under-hydrated -- probably because theyíre not drinking enough water -- and that could have significant repercussions for their physical health and cognitive and emotional functioning."
I contacted a friend who has young kids and asked if dehydration was a concern for her. She replied that she hoped her kids were intelligent enough that if they were thirsty they would come to her and tell her so. Having said that, she also observed that she knew a lot of parents who are concerned with this sort of thing.
As I previously noted, the Gululu Kickstarter just launched, so these little beauties arenít available to the general public yet. Fortunately for me, I'm not the general public -- I'm not called Max the Magnificent for nothing -- so the folks at Gululu kindly sent me one of these little scamps to play with.
My first pre-out-of-the-box impression was that the box itself was beautifully illustrated. It's rare that you find yourself pausing to admire the packaging when all you really want to do is play with the contents.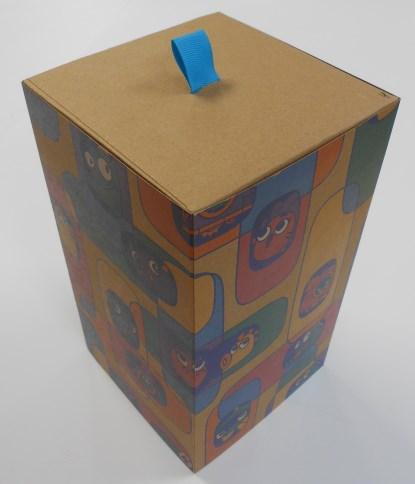 When you do open the box, you find your Gululu, which -- it has to be said -- has a really good look and feel to it. Not shown in this image is the wireless charging station and associated USB cable that's used to connect the charging station to a wall-wart USB power adapter.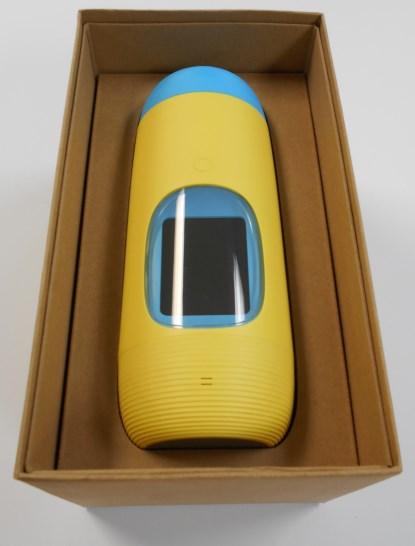 It didnít take long to download the app to my iPad and set things up. I did run into a couple of niggles, such as the fact that there was no obvious way to select between pounds and kilograms (which are the default). Also, there was the fact that the maximum weight allowed was 100 kg and the earliest birth year to which I could wind things back was 1970. Neither of these latter points would be issues for typical kids, but I can envisage special needs kids heavier than 100 kg and/or special needs adults older than 46 years feeling excluded.
The main thing here is that I donít see any reason for having these limits. I communicated this back to the Gululu folks who replied that, although the hardware is pretty much locked down now, they are still working on the software, so I live in hopes that these niggles will become ex-niggles.
Meanwhile, the display offers great resolution and the color graphics and animations are beautifully rendered. As soon as you pick the bottle up or press the button above the display, the screen turns on and you get to see the creature you selected appear on the display, after which you start interacting with the little scallywag.
But does this work? Will the Gululu actually persuade kids to drink more water? Well, I canít speak for other kids, but it's certainly working with me. I've been drinking far too much coffee recently. Now, instead of another Cup of Joe, I tend to fill my Gululu with water because it's nice to receive a cheerful "thumbs up" from my creature when I take a quaff.
The thing that really amazes me is when you think of the computing power, display technology, and wireless technology involved in all of this. If I ever get my time machine working and take my Gululu back to 1975 when I graduated high school, my friends wouldnít believe their eyes (because they weren't used to seeing me wearing Hawaiian shirts back in those days LOL).
Related posts:
— Max Maxfield, Editor of All Things Fun & Interesting