Quarter-Sized, Magnetically Stackable Modules for Students and Makers
Max Maxfield, Designline Editor

5/21/2015 01:30 PM EDT

5 comments
post a comment
mCookies are small, powerful, Arduino-compatible modules for makers, designers, engineers, students, and curious tinkerers of all ages
Every now and then you run across something that blows your socks off and makes you exclaim: "Wow! That's a great idea!"
That was certainly my reaction when I ran across the original Microduino a couple of years ago. The image below shows the Microduino-Core module; there are now more than 50 modules, extension boards, application kits and accessories available for Microduino that can be used to implement almost any project one's imagination can conceive.
Following two successful Kickstarter campaigns, the folks at Microduino have shipped their modules to tens of thousands of users on six continents. Now they are taking things to the next level, and this is where things start to get really clever. They've just launched a New Kickstarter Campaign for something they call the Microduino mCookie.
Like the original Microduino modules, these are small, powerful, Arduino-compatible modules for makers, designers, engineers, students, and curious tinkerers of all ages. Just by looking at these little beauties you can see that everything about them has been really well thought out. For example, they each come with a candy-colored shell that makes it easy to distinguish the various functions.
Microduino mCookies modules have four powerful magnets inside the corners, which allow them to be connected with a satisfying snap. The modules will reject each other if they are not orientated and aligned correctly, so you simply can't get it wrong.
As all of us Arduino users have discovered to our cost, stackable pins can be easily bent during usage. In order to address this, mCookie modules are equipped with spring (pogo) pins that provide rugged surface-to-surface connection between circuit boards for a longer usable lifetime.
One aspect of the design that almost made me squeal with delight is the fact that the raised circular fixators on each side mean that mCookie modules can be stacked with LEGO-series products, thereby making it easier than ever for beginners and children to get started with DIY electronics!
If you take a look at the mCookie Kickstarter website,, you'll see there are modules for Bluetooth, WiFi, USB, GPS, storage, sound, sensor readings, and much, much more, including everything necessary to build popular projects such as drones, robots, GPS trackers, 3D printers, open-source watches, smart gardening gadgets, and ... the list goes on. Take a look at This Video from the Kickstarter page.
Did you spot the mCookie-based Nixie-tube clock in corner (I love Nixie tubes). It's really interesting to see an mCookie module stack being used to control a LEGO car, then removed from the car and used to control a BoxZ Robot, then removed from the robot and used to control a quadcopter, and on and on and on. I particularly like the model car that acts like a mini Segway and balances itself on two wheels.
mCookie is available for preorder on Kickstarter today with different project kits aimed at all levels of makers and sold at various price points. They've already reached $64,000+, thereby exceeding their original $40,000 goal, and -- at the time of this writing -- they still have 26 days to go.
This looks like being another mega-success for the folks at Microduino. These are people who obviously "get it" and I doff my cap to them. As soon as I can lay my hands on my own set of mCookie modules, I will report further. Until then, what do you think about the educational potential for these little beauties in high schools?
Related posts:
— Max Maxfield, Editor of All Things Fun & Interesting

---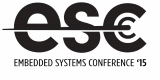 Join over 2,000 technical professionals and embedded systems hardware, software, and firmware developers at ESC Silicon Valley July 20-22, 2015 and learn about the latest techniques and tips for reducing time, cost, and complexity in the embedded development process.
Passes for the ESC Silicon Valley 2015 Technical Conference are available at the conference's official site with discounted advance pricing until July 17, 2015.
Make sure to follow updates about ESC Silicon Valley's talks, programs, and announcements via the Destination ESC blog on Embedded.com and social media accounts Twitter, Facebook, LinkedIn, and Google+.
The Embedded Systems Conference, EE Times, and Embedded.com are owned by UBM Canon.