Arduino-Based Wormhole Actualization Machine (WAM)
Max Maxfield, Designline Editor

6/2/2014 03:30 PM EDT

26 comments
post a comment
I am humbled. I am shamed. Even worse, I am guilty of violating one of the Ten Commandments -- the one that starts "Thou shalt not covet thy..."
Happily, I donít covet my neighbor's house (I like ours better), or his wife (although she is a very pleasant lady), or his animals and/or servants. I do, however, covet Alan Watts' Wormhole Actualization Machine (WAM).
As you may recall, some time ago I constructed a Mind-Boggling Infinity Mirror. I must admit that I was quite happy with the result. It wasn't a big Infinity Mirror in the scheme of things, but it was my Infinity Mirror.
Also, it's a well-known fact that it's not the size of your Infinity Mirror that's important -- it's what you do with it that counts. The bottom line is that I was quietly content to sit in the corner cackling over my cunning creation, but all that changed when that rascally scoundrel, scalawag, and scamp Keith Dawson (Editor-in-Chief of AllLEDLighting.com) emailed me to say "This looks to be right up your street!"
Keith's comment was accompanied by a link to this column on BoingBoing.net. In this article, my new hero Alan Watts describes how he constructed his Arduino-based psychedelic spacetime visualizer.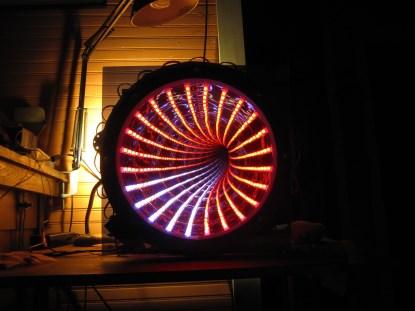 Alan's article includes lots of scrumptious pictures that have me drooling all over my Hawaiian shirt du jour. Have you ever wondered what it might be like to get sucked into a black hole and travel at hypersonic speeds through a wormhole? (I know, I know, who hasn't?) If so, and assuming you donít have an unfortunate accident, Alan's video is probably the closest you will ever get to finding out.
Arrgggh! Now I want my own Wormhole Actualization Machine, but I'm already up to my armpits in alligators fighting fires without a paddle (I never metaphor I didn't like) with my ongoing Inamorata Prognostication Engine and BADASS Display projects.
All I can say is that I'm going to add a Wormhole Actualization Machine to my list of "Things to Do." And when I do get round to doing the things on my "Things to Do" list, then Alan Watts had better stop gloating and start looking out is all I can say, because mine is going to be much bigger and better and brighter and more psychedelic than his. When you look at mine, you'll feel as though your brain is being sucked out through your eyeballs... and that will be before I even turn it on! Ha!
Related posts:
— Max Maxfield, Editor of All Things Fun & Interesting