Determining the Signal Characteristics of the iPad/iPod/iPhone Headphone Output
Max Maxfield, Designline Editor

6/12/2014 06:50 PM EDT

24 comments
post a comment
In an earlier post, I described the building of a low-cost frequency generator. This is part of my Bodacious Acoustic Diagnostic Astoundingly Superior Spectromatic (BADASS) Display project.
I need the frequency generator to squirt known signals into my display to ensure that everything is working as I expect. The next trick, of course, is to determine the characteristics of the signals I need to generate: peak-to-peak voltage, DC offset, and suchlike.
Just to make sure we're all tap dancing to the same drumbeat, and remembering that a lot of EE Times community members lean more toward the digital side of things than to the analog, take a look at the image below.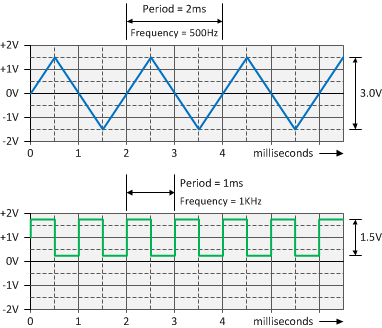 The upper (blue) trace shows a triangular waveform with a period (p) of 2 ms (0.002 seconds). The period is the amount of time before the waveform starts to repeat itself. The frequency (f) is 1/p = 1/0.002 = 500 Hz. The highest value for this signal is +1.5 V, and the lowest is -1.5 V, so the peak-to-peak voltage is 3 V. Since this signal oscillates around 0 V, it has no DC offset component.
By comparison, the lower (green) trace shows a square waveform with a period of 1 ms (0.001 seconds) and a frequency of 1 KHz. Since the lowest and highest values of this signal are 0.25 V and 1.75 V, respectively, its peak-to-peak voltage is 1.5 V. Also, since this signal oscillates around +1 V, it is said to have a DC offset of +1 V.
The reason I'm waffling on about this is that I'm planning on driving my BADASS display from the headphone jack coming out of my iPad. Before I do that, I want to set up my frequency generator so that its output looks like that of my iPad. To do this, I need to know the peak-to-peak voltage and DC offset (if any) of the signal coming out of the headphone jack.
Now, I'm sure this information is available on the web, but I couldn't find it. The next option was to go for empirical measurements.
Before we go there, let's take a step back and consider the rest of my setup. When I'm listening to music on my iPad -- if I'm working on a hobby project in the garage, for example -- I typically listen to it on my Bluetooth Logitech Boombox. The problem is that, if I plug something into the headphone socket, this will disable the Boombox, or vice versa.
To get around this, I decided to invest in a cheap and cheerful Cyber Acoustics subwoofer satellite system, which seemed to be a good deal at $39.99 from Amazon. The main thing about this unit (apart from the sound, of course) was that it accepted a 3.5 mm stereo jack as input -- the same as the iPad's headphone output.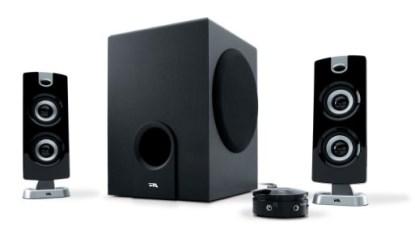 I also purchased two four-foot stereo audio cables and a six-inch stereo splitter cable.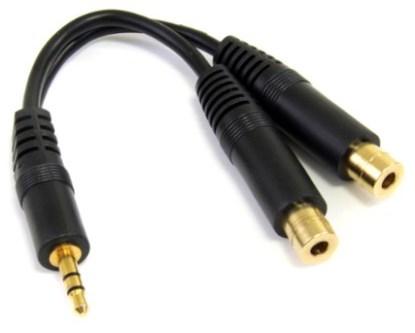 The idea is to plug the splitter into the iPad's headphone socket and use one side to drive the satellite system and the other side to drive my BADASS display.