Made in the USA
Max Maxfield, Designline Editor

7/4/2014 08:00 AM EDT

18 comments
post a comment
I just heard from my chum Gaby Lorenzo at Atmel that they are kicking off the month and celebrating Independence Day with a patriotic infographic titled "Made in the USA."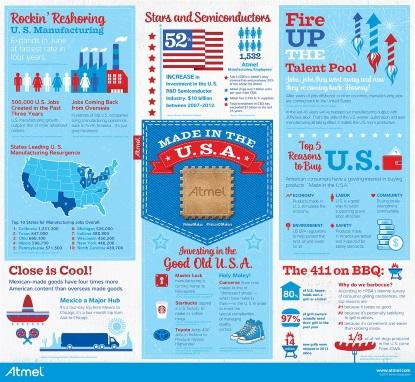 As Gaby cheerfully told me: "From 'Stars and Semiconductors' to the saucy details of BBQ, this infographic shares some interesting facts on U.S. manufacturing and some longstanding American traditions."
The folks at Atmel are really rather enthused by all of this. They've even written a blog about it over on their Bits & Pieces from the Embedded Design World website.
I have to say that I do enjoy Atmel's infographics -- I always discover some tidbit of trivia or nugget of knowledge that resonates with me and sticks in my mind so I can amaze my family and friends (my wife thinks I'm really clever, and I don't like to disillusion her).
Even though I'm from England, I do enjoy the 4th of July holiday. I'm always amazed to think what a young country America is, and how the Americans have come so far in such a short period of time (with a little help and guidance from their older, wiser friends, of course).
Without America, we might not have many of the things we take for granted, at least not in their present forms, such as television, microprocessors, the Internet, or iPads, to name but a few. At the very least, the world would be a very different place. What are your thoughts as to the best, most useful, and most unusual things that America has presented to the world?
While you are cogitating and ruminating on that, I, everyone else at EETimes, and the Atmel team all offer you our very best wishes for a very happy 4th of July!
— Max Maxfield, Editor of All Things Fun & Interesting

Related posts: