Creating a Vetinari Clock Using Antique Analog Meters
Max Maxfield, Designline Editor

8/20/2014 03:30 PM EDT

132 comments
post a comment
As you may recall, the Mighty Hamster (a.k.a. Mike Field) graced my humble office with a visit a couple of weeks ago. (See All Hail the Mighty Hamster.) While he was here, Hamster noticed some of the antique analog meters scattered around my office, and he shared an idea with me -- to build a clock using this sort of meter as the display. Hamster kindly said that I was free to run with this idea myself, so I added it to my list of hobby projects. (See Juggling a Cornucopia of Projects.)
Most of the meters in my possession were already committed to other projects. Fortunately, at the time of Hamster's visit, the annual Huntsville Hamfest was fast approaching. In fact, the Hamfest took place this past weekend. It opened at 9:00 a.m., but I got there at 8:15 a.m., because I wanted to be at the front of the queue. I'll be posting a detailed blog about the Hamfest with lots and lots of pictures as soon as I get a spare moment.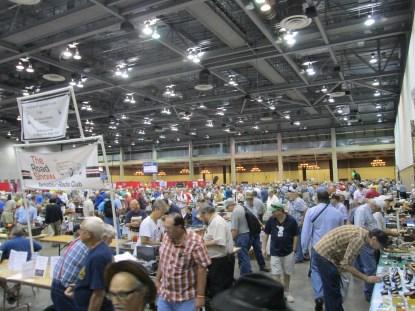 All I can say is that I made off like a bandit on the antique meter front. When I attended last year's event, I arrived empty handed and ended up staggering around with loads of carrier bags. I soon noticed that the more experienced attendees were sporting backpacks to stash their acquisitions. This year, I wore a backpack, but I wish I'd taken a rolling trolley, because I had to make numerous trips back and forth to my truck. The image below shows the meters I picked up, along with a few other items I couldn't resist.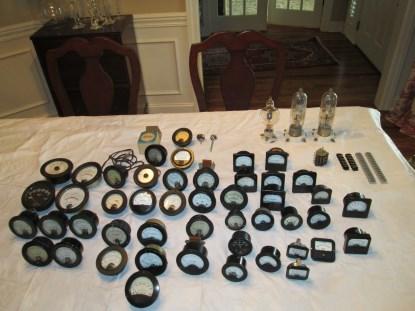 Yes, I know this is a lot of meters. What can I say? I am a weak man when it comes to antique stuff in general and analog meters in particular. All I know is that, when you can pick up meters like this for only $2 apiece, you grab them while the grabbing is good. Quite apart from anything else, I promised to pick up some meters for the Mighty Hamster. As soon as I post this column, I'll email him to ask which ones he wants.
I decided to use a large meter to display the hours and two medium-sized meters to display the minutes and seconds. I also plan on using a small meter to flip back and forth like a metronome in time with the "tick-tock" sound I intend to generate.