I'm on the Brink of Being Obducted; Farewell...
Max Maxfield, Designline Editor

8/29/2016 05:15 PM EDT

8 comments
post a comment
As this launch trailer video shows, Obduction takes immersive reality to a whole new dimension.
I'm currently bouncing off the walls in excitement because I just downloaded my copy of the Obduction game that I supported as a Kickstarter project.
This all began in October 2013 when I discovered that the folks at Cyan -- the creators of games like Myst and Riven -- had just launched a Kickstarter project to fund the development of a new game called Obduction (see I Cannot Wait to Be Obducted!).
Well, the sands of time slithered their way through the hourglass as is their wont. The weeks turned into months and the months turned into years, so this had largely drifted to the back of my mind until March of this year when I received an update promising a release date in July 2016 (see I'm Ready to be Obducted -- Take Me!).
Sad to relate, July came and went with naught but a sheepish communication saying something along the lines of: "Just tidying up a few loose ends -- it really is coming soon." There was much gnashing of teeth and rending of garb in my office that day, let me tell you.
But all of that's behind us. I'm currently performing my Happy Dance (cover your eyes if you wish to preserve your sanity) because I just received my download code and I've installed the 2D version of Obduction on my monster virtual reality machine.
"But why only 2D?" I hear you cry. Why indeed. Earlier this year, the folks at Cyan promised that the first release would be PC, Mac, and Oculus Rift-ready. Well, "one out of three ain't all that good," because it appears that only the PC version is available -- the Mac version is supposed to be ready but a lot of users are saying it doesn't work, while the Oculus Rift implementation is currently missing in action.
I was poised to dispatch the butler to fetch my angry trousers, but then I powered up the PC version just to take a "look-see" and I have to admit that it appears to be mind-bogglingly awesome. Take a look at this Obduction Launch Trailer Video and see what you think.
Now go back and watch it two more times to spot all the little details you missed the first time. "OMG!" is all I can say. If the 2D version is this good, the fully immersive VR realization is going to blow my socks off (note to self: order another crate of elasticated socks).
So now I'm sitting on a horny dilemma the horns of a dilemma -- I really, really want to experience the VR version of Obduction, but I have no idea how long it will be before I can feast my orbs on this little beauty. Meanwhile, I have the 2D version sitting on my VR machine singing its siren song with promises of delectation and delight. But now we have another problem. Do you recall the machine the folks from GigaParts created just for me (see It's (Virtual Reality) Life Jim, But Not As We Know It)?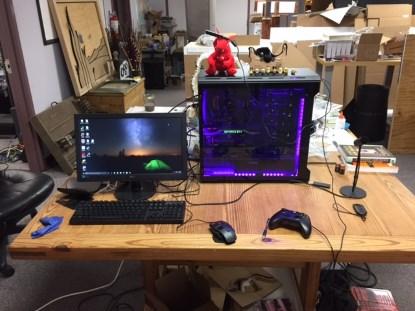 Performance-wise, this beast is awesome. It boasts a 6th generation quad-core, hyper-threaded, water-cooled Intel Core i7 processor running at 4GHz with 16GB of RAM, and this little beauty is mated with an Nvidia GeForce GTX 1070 with 8GB of GDDR5 memory.
On the downside, I only ever expected to be running this with my Oculus Rift, so in order to save money I didn't bother with any speakers (the Oculus has attached headphones) and I opted for a small, cheap-and-cheerful monitor on the basis that I was only ever going to use it for housekeeping tasks like launching the Oculus.
Now that I've experienced a tempting taster of Obduction, I've been desperately trying to justify adding speakers along with a bigger, better monitor to the beast, and I think I've managed to come up with something. VR is wonderful, but -- at least in the case of a game like Obduction -- it's a solitary pursuit. That is, it's awesome for the person sporting the VR headset, but it's boring for anyone else in the vicinity.
One of the great things about Myst and Riven was playing them and solving their puzzles with friends and/or family members. In the case of the 2D version of Obduction, I can imagine a few of us here in the office meeting up for 30 minutes at the start of the day before we commence work or at the end of the day before we head for home, toiling together to explore this new world and unveil its mysteries.
Can you imagine the comradery and esperit de corps this activity will foster? I can hear your thoughts like you were here in the room talking to me: "What sort of man would you be to deny your colleagues this team-building activity?" You really are a smooth talker. How can I argue with logic like that? You are correct. I owe it to the creator of the universe to make this world a happier place.
In the case of the speakers, I just ordered a pair of Creative Reference Multimedia Monitors from Amazon. These score 4.4 out of 5 stars with 809 people voting for them, which offers a very high level of confidence in my experience. In the case of the monitor, I just called Daniel at GigaParts and he says they have some amazing deals on the showroom floor, so I'm going to drop by as soon as I get a spare moment.
Have you tried a high-end VR system yourself yet? If not, you'll get a chance to do so if you are planning on attending the Embedded Systems Conference (ESC), which will take place September 21-22 in Minneapolis, MN (see Experience virtual reality at ESC Minneapolis). Meanwhile, watch this space for future developments and -- while you're waiting -- I would be very interested to hear what you think about the Obduction video shown above.
Related posts:
— Max Maxfield, Editor of All Things Fun & Interesting