Book Review: Deadly Odds by Allen Wyler
Max Maxfield, Designline Editor

11/26/2014 10:00 AM EST

11 comments
post a comment
This is a great read that will have you on the edge of your seat shouting things like "Don't answer that telephone!"
Generally speaking, when it comes to settling down with a good book, I tend to gravitate towards science fiction and science fantasy. Having said this, I do spend a lot of time reading books on science, technology, and math. Also, I do make the occasional foray into other genres, including technological thrillers.
All of this leads me to a book I just read called Deadly Odds by Allen Wyler -- a former neurosurgeon who now devotes his time to writing fiction.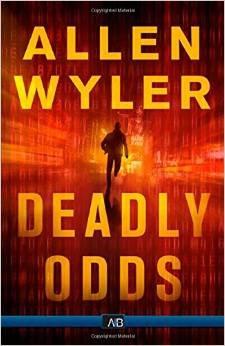 In the first sentence we are introduced to our hero -- 23-year-old Arnold Gold -- who has stepped out to purchase a pizza. Within a couple of pages, Arnold returns to his home, his best friend is shot dead, and we find ourselves cowering in an alleyway hiding from a group of terrorists.
I'm really not doing this justice. The pace of the book at the beginning takes your breath away and leaves your head spinning. Following this, the first half of the book involves a lot of flashbacks in which we discover how Arnold found himself in this predicament, while the second half covers how he extracts himself again.
I'm not giving much away when I say that Arnold is a computer nerd who has developed an artificial intelligence system that allows him to predict the odds of things happening. Using his system, Arnold makes a lot of money, but his knack for hacking is not matched with a knack for meeting girls. When he ends up in Las Vegas, Arnold foolishly quaffs a few too many drinks and boasts of his accomplishments to a beautiful escort who turns out to be... but no, you'll just have to read this part for yourself.
When I described Arnold as "our hero" earlier, I was sort of stretching the truth a tad. On the one hand, I think a lot of us will relate both to his technical prowess and his social awkwardness. On the other hand, when he's being questioned by the police, for example, the way his mind wanders does tend to make one want to slap him around a bit. And that's just me as a reader wanting to slap him -- I'm amazed the authorities didn't beat him up on general principle for being so annoying.
The thing about all of this is that the author has done an amazing job characterizing Arnold, and you really do start to relate to him as a real person, which helps explain why you get so annoyed with him.
Now, it has to be said that there are a few small "holes" in the plot, but I'm a bit of an anal retentive that way (I'm seriously thinking of writing to the BBC and telling them they should have me as a science and technology advisor on Doctor Who, but that's a tale for another day) and these really don't detract from the overall story. The bottom line is that this is a great read that will have you on the edge of your seat shouting things like "Don't answer that telephone!" and then having to take a break before turning the page to see what happens when young Arnold foolishly disregards your advice.
Related posts:
— Max Maxfield, Editor of All Things Fun & Interesting