Analog Faceplate Design Decisions: Art or Science?
Max Maxfield, Designline Editor

10/30/2014 11:55 AM EDT

19 comments
post a comment
Creating industrial designs, like new faceplates for use in antique analog meters, is part art and part science.
My degree is in Control Engineering -- a core of math with "surrounding subjects" of electronics, mechanics, and hydraulics and fluidics. The only official programming I did as part of this course was in FORTRAN. Once I was out of university, I picked up various assembly languages and programming languages (e.g., BASIC, Pascal, C, and smatterings of other languages) along the way.
There are many subjects I wish I'd been able to take that simply were not available to me at the time, such as digital signal processing (DSP), databases, 3D graphics, and web design. Of course, some of these subjects weren't even around at that time. Out of all of the things I wish I'd been exposed to, one that is right up there at the top of the list is Industrial Design. I would love to know some of the underlying principles of this discipline. As fate would have it, however, I pretty much have to make things up as I go along. A case in point would be the design of the new faceplates for my antique analog meters.
As you may recall, I've been working on my Inamorata Prognostication Engine project for quite some time now, but it's only relatively recently that the design of the new faceplates has come to the fore.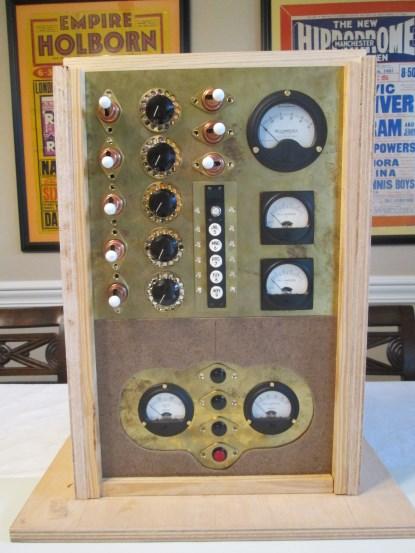 For each meter, I had originally only considered having a main legend stating the purpose of that meter, along with any textual or numerical annotations associated with the reticle (graticule). When I started to discuss this with Jason Dueck from Instrument Meter Specialties, however, he emailed me the following image of a faceplate for an old Simpson meter.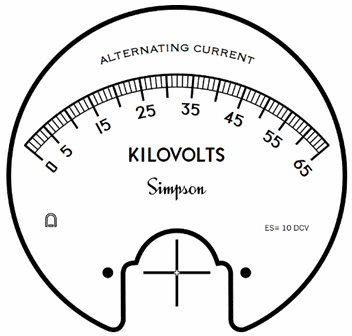 Jason noted that this faceplate contains a number of elements. In addition to the main legend ("KILOVOLTS") presented horizontally in the middle of the meter, there is some smaller supplementary text ("ALTERNATING CURRENT") presented in an arc above the reticle. Also, there is the manufacturer's logo -- a textual treatment of "Simpson" in this case.
Based on this, I decided to revamp all of my original faceplate concepts. Remember that the purpose of the Inamorata Prognostication Engine is to help me predict whether or not the radiance of my wife's smile will lighten my life when I return home in the evenings. (Of course, as I've mentioned before, should my wife -- Gina The Gorgeous -- ever come to discover the true purpose of this artifact, I won't actually need it to predict her mood of the moment LOL.)
From top-to-bottom, the three black momentary pushbuttons in the middle of the lower control panel equate to giving a bunch of flowers or a box of chocolates, a kind word, or a cuddle or a hug. Using these elements judiciously -- both with the Prognostication Engine and in the real world -- should serve to improve the overall state of things; using them too enthusiastically, however, will awaken the Suspicion of Wrongdoing algorithm. This is an algorithm with ramifications so dire as to demand its own display as shown below.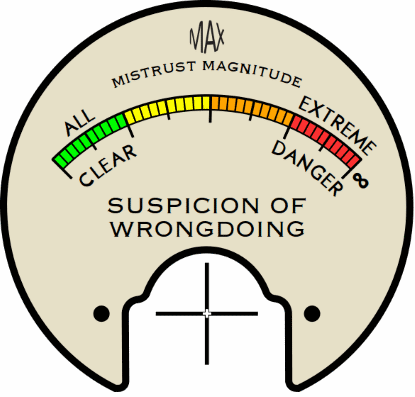 I will be presenting images of all of the meters, along with associated discussions and decisions, in a future column. The reason I'm highlighting this one here is the fact that it reflects the operation of several of the other devices; i.e., we start off in the green zone on the left, which equates to "All Clear" in this case, and we proceed through the yellow and orange zones until we reach the red zone, which indicates an "Extreme Danger" situation in this example. (Should we ever reach the infinity symbol on the right, it's time for me to put my head between my legs and... but let's hope we never arrive at such a juncture.)
One thing worth noting is the background color, which Jason assures me will be a very light tan. Apparently this looks darker on my screen -- and presumably on your screen -- than it will in the real world due to the vagaries of display versus print technology. Jason explained that if I were to stand and look down on the screen, the background would appear lighter and closer to the way it will actually appear in the flesh, as it were (correspondingly, if I were to put my head on my desk and look up, it would appear darker). Well, blow me down, he's right -- I learn something new every day!