A (Good) Picture is Worth 1,000 Words
Max Maxfield, Designline Editor

6/24/2016 04:15 PM EDT

20 comments
post a comment
At some stage, a cheap-and-cheerful camera coupled with a point-and-click technique fails to satisfy one's artistic urges.
I know I'm starting to moan and groan like a curmudgeonly old man*, but young folks today really don't know how lucky they are and how much the world has changed with regard to so many things. *(I feel like an old fool, but where are we going to find one at this time of the day?)
Take photography, for example. When I was 18 and had just graduated from high school in the summer of 1975, a group of us hitchhiked down to St. Ives for a week's vacation. While we were down there, we all ended up purchasing disposable cameras pre-loaded with 35mm film. Each camera could take only 24 pictures so we ended up buying a bunch of the little rascals.
Once we'd returned to Sheffield, we all took our cameras to Boots the chemist (pharmacist in the USA) and dropped them off to be processed. As I recall, it typically took anywhere from one to two weeks for the prints to come back, and it was only then you discovered if you had captured anything you actually wanted to see.
Where are those photos now? I think most of us have a cardboard box stuffed with memorabilia like photos and letters stored somewhere in our houses. I also think most of us tell ourselves that once we retire we'll take the time to sort everything out. Time will tell.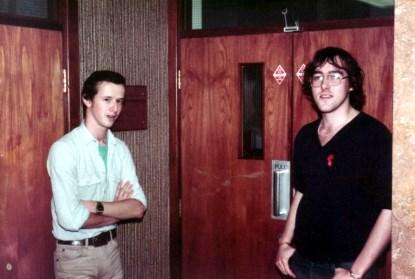 The thing is that taking photos in those days of yore took a substantial amount of time and effort. Also, it wasn't cheap when you think of the limited funds we had at our disposal. The end result is that most of us ended up with only occasional images with which to remember the highlights of our lives.
At that time, we never envisaged the advent of digital cameras, either as standalone devices or embedded in things like smartphones. When digital cameras eventually did arrive on the scene, consumer-level devices were pretty low resolution. Also, computer storage was relatively expensive at that time, so we tended to sift through our images discarding any that didn't "make the grade." Today, by comparison, digital cameras offer mind-boggling resolutions and we enjoy essentially unlimited storage (I have a terabyte at my disposal on DropBox), which affords us the luxury of preserving an effectively unlimited quantity of images.
I must admit that I do envy young folks having the ability to capture pictures of themselves and their friends wherever they go and whatever they do. These will provide wonderful memories in years to come, but that's not what I wanted to talk to you about...
Index