Saddleback Sale – It's Happy Dance Time
Max Maxfield, Designline Editor

10/1/2014 06:03 PM EDT

0 comments
post a comment
It's no secret that I'm a huge fan of the products from Saddleback Leather. As I sit here at my desk, I'm wearing one of their 1¾" wide Tow Belts, upon which rests one of their Belt Pouches. The left pocket of my cargo shorts is bulging with one of their Long Trifold Wallets, while in my right pocket we find the Sleeve Wallet in which I keep my business cards.
At home, my iPad basks in the safety of its leather iPad Case, which attracts comments wherever I go, and which provides a level of protection above and beyond anything else I've seen out there. Meanwhile, the pride of my collection is my Messenger Bag. This is the one my inventor friend Brian LaGrave drools over whenever he happens to drop by my office for a visit.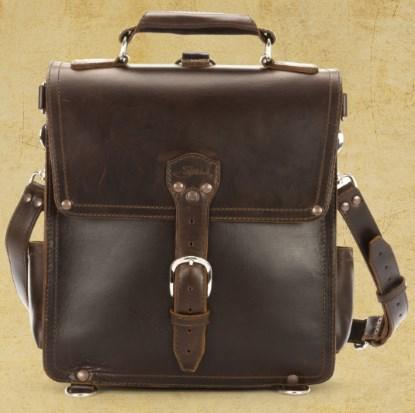 OMG, I just visited the Saddleback site and saw the most amazing Classic Pistol Wrap. I didn't even know something like this existed -- now I don't know how I will be able to live without it (although live without it I must, because funds are a little tight at the moment).
The reason I'm waffling on about all this here is that I just received an email from the folks at Saddleback telling me that Dave (the owner) has purchased an entire factory in Mexico. Also, that he has been designing some new gear and is excited to bring it out in time for Christmas. The big hiccup in the plan is that they need to clear out a lot of their existing inventory.
Their solution is to have a humongous sale. They've marked a lot of products down by as much as 35% off; also, they are offering free shipping on orders over $200. They also tell me that some of the items won't be made again and will be going the way of the dodo bird (sad face).
I just bounced over to take a look. I was hoping-against-hope that I would find them offering their legendary backpacks. I love both their Simple Backpack and their Squared Backpack, but I lust over their Front Pocket Backpack. Oh well, perhaps one day...
In the meantime, I see all sorts of things I would like to treat myself with that are on sale, such as their Gadget Bag (if there's one thing I've got, it's a lot of gadgets). Quite apart from anything else, this would be a great time to do some Christmas shopping -- the year before last I bought Tow Belts for my brother, my father-in-law, and my best friend, and all three wear nothing else and talk about their belts to this day (when I say "wear nothing else," I mean "no other belts," of course, not "no other article of clothing" -- I just wanted to make that perfectly clear).
As an aside, I also ran across this video in which Dave explains how to create counterfeit Saddleback products.
I can't help it. I keep on returning to the Saddleback site to feast my eyes on those beautiful backpacks (and the gadget case... and the classic pistol wrap). With regard to the backpacks, which do you favor the most -- the simple backpack, the squared backpack, or the front pocket backpack? How about their other products? If you were going to treat yourself, what's the one thing you would prize above all else?
— Max Maxfield, Editor of All Things Fun & Interesting

Related posts: