Free Webinar: Introducing the XLR8 FPGA-based Arduino Uno Clone
Max Maxfield, Designline Editor

9/29/2016 01:40 PM EDT

0 comments
post a comment
The FPGA-based XLR8 has the same footprint as an Arduino Uno, but it runs like an Arduino Uno on steroids.
I can't believe that it's been almost a year since I first became aware of the FPGA-based board called the XLR8 ("Accelerate" -- get it?) that has the same footprint as an Arduino Uno, but that runs like an Arduino Uno on steroids (see Arduino on Steroids: FPGA-based XLR8 at ESC Minneapolis 2015).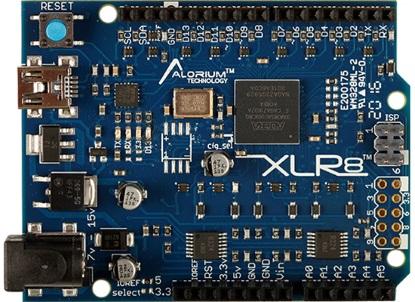 By default, the XLR8 behaves just like an Arduino, right down to its timing and 16 MHz clock. However, the XLR8's clock frequency can be changed, and various functions -- like the PWMs -- can be implemented using XBs ("acceleration blocks") inside the FPGA.
For example, the Arduino Uno doesn't have a floating-point unit, which means it has to clunk along implementing floating-point operations using lots and lots of simple instructions. In turn, this means it executes floating-point operations verrryyy sslllooowwwlllyyy. By comparison, the XLR8 has dedicated floating-point hardware programmed directly into the FPGA's fabric. Check out this video comparing an Arduino Uno and an XLR8 using floating-point math to generate Mandelbrot fractal images.
The reason I'm waffling on about this here is that I just heard that the creators of the XLR8 will be hosting a free webinar on Friday, September 30, at 3:00pm Central Daylight Time.
Also of interest is the fact that these little scamps will be presenting a 2-hour tutorial demonstrating A Novel Hands-On Approach to Learning FPGA Design at the forthcoming Embedded Systems Conference (ESC) in Silicon Valley, December 6-8, 2016.
I'm planning on attending both of these events -- I'll be the outrageously handsome one in the Hawaiian shirt (LOL) -- hopefully I'll see you there.
Related posts:
— Max Maxfield, Editor of All Things Fun & Interesting