ESC Boston 2015 Sneak Peek! Embedded Systems That Glow in the Dark
Max Maxfield, Designline Editor

4/1/2015 03:30 PM EDT

0 comments
post a comment
At ESC Boston 2015, Max Maxfield will be giving a presentation on how radiation can affect electronic components and systems, and how hardware and software developers can mitigate against these effects.
Some time ago, I asked my mom what she knew about radiation. She replied that she didn't know much about it at all; all she did know was that she didn't want to be in the same room as it.
This is unfortunate, because radiation is all around us -- it's in the ground we walk on, the food we eat, and the air we breathe. I should know because I have a radiation detector sitting on the bookshelves here in my office merrily chirping away, and it's nowhere near my radioactive marbles (see also I have radioactive balls!).
Sad to relate, when I ask around my engineer chums, a lot of them are also somewhat vague as to what the word "radiation" actually encompasses. So we can only hope that, as discussed in this video they will all be attending my presentation -- Radioactivity: Embedded Systems That Glow in the Dark! -- which will be held in the Fantastical Theatre of Engineering Innovation at the forthcoming Embedded Systems Conference (ESC) in Boston, May 6-7, 2015.
Continue reading the complete version of this column on EE Times' sister site, Embedded.com.
---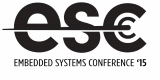 Join over 2,000 technical professionals and embedded systems hardware, software, and firmware developers at ESC Boston May 6-7, 2015, and learn about the latest techniques and tips for reducing time, cost, and complexity in the development process.
Passes for the ESC Boston 2015 Technical Conference are available at the conference's official site, with discounted advance pricing until May 1, 2015. Make sure to follow updates about ESC Boston's other talks, programs, and announcements via the Destination ESC blog on Embedded.com and social media accounts Twitter, Facebook, LinkedIn, and Google+.
The Embedded Systems Conference, EE Times, and Embedded.com are owned by UBM Canon.