007 Movie Inspires Concept Cars
Aston-Martin DB-10 vs. Jaguar C-X75
R. Colin Johnson, Technology Editor, EE Times

7/22/2015 06:40 PM EDT

6 comments
post a comment
The new James Bond 007 movie inspires a never-before-seen concept car from Aston Martin, which engages on screen in a car chase against the hybrid Jaguar C-X75 concept supercar.
PORTLAND, Ore. -- In the new James Bond movie Spectre, with actor Daniel Craig again playing 007, will feature an Aston Martin DB10 model designed especially for the movie—only 10 of which were made for the film-crew worldwide. The bad guy will be driving the hybrid Jaguar C-X75 supercar which the company showed as a concept car, but will not produce. It should make for some great car chase scenes.
The Aston Martin DB-10 versus the Jaguar C-X75 can be seen in the Spectre trailer released today, including scenes from the car chases.
Aston Martin is keeping the details on its DB-10 a trade secret--except the obvious, such as the body is a two-door coupe) but here are the facts as I have gathered from those experts who make it their business to keep track of concept-car specifications (also Wikipedia has gathered its most-likely specs).
Its cost (if you could buy one) would be about half a million dollars (rumor is the studio might sell its 10 prototypes after the film has been showing a while). Its designer was Marek Reichman and it was manufactured at Aston Martin's Gaydon, Warwickshire, United Kingdom plant.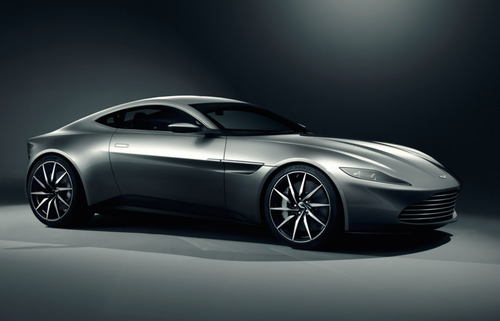 The engine is said to be the 4.7 liter V-8 Vantage (rather than the DB-9's V-12) built on a front-engine rear-drive layout with Aston Martin's proprietary vertical/horizontal (VH) Platform chassis. The horsepower is said to be 430-bhp with a torque of 361-lb f (pounds-force foot), resulting in a 0-to-60 miles-per-hour of between 3-and-4.3 seconds with a top speed of 193-to-200 miles-per-hour (depending on the source).
The Jaguar C-X75--also with the body of a two-door coupe--has a smaller engine, just 1.6-liters, but is both turbocharged and supercharged, resulting in 520-bhp. It also has a 194-bhp electric motor, which together are claimed to produce an unbelievable 850-bhp at 10,000 rpm (revolutions per minute) with 738-lb f of torque. It is also claimed to accelerate from 0-to-60 in 3 seconds and can exceed 200 miles-per-hour.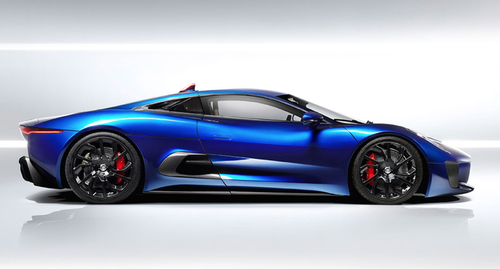 Since 007 seems to be out-gunned horsepower- and torque-wise, his assumed winning in the car chase can only be accounted for by his driving skills and whatever gadgets that Q-Branch adds to the Aston-Martin (the trailer shows a few including a flamethrower that shoots out the rear onto the following car).
The story line concerns an intercepted message that sends 007 around the world where he meets Lucia Sciarra (Monica Bellucci) who helps him infiltrate the Spectre organized crime organization. After encountering resistance from his superior, Max Denbigh (Andrew Scott)--the new head of the Centre for National Security- -he embarks on a rogue mission with the help of Moneypenny (Naomie Harris) and Q (Ben Whishaw). After seeking out Madeleine Swann (Léa Seydoux), the daughter of "Mr White" (Jesper Christensen)--his nemesis from previous episodes--he begins to untangle the mysteries of Spectre including a connection between himself and his enemy, played by Christoph Waltz.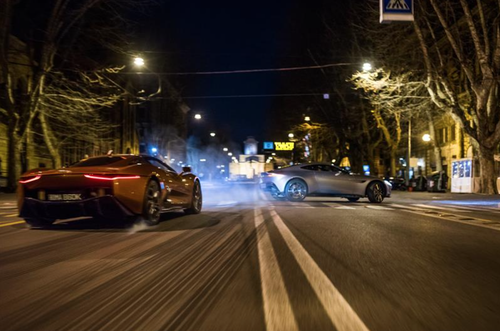 Columbia Pictures has invited me to preview the entire movie, so I'll give you another update just before it hits the theaters on November 6, 2015.
— R. Colin Johnson, Advanced Technology Editor, EE Times

Related articles:

---

Join over 2,000 technical professionals and embedded systems hardware, software, and firmware developers at ESC Silicon Valley July 20-22, 2015 and learn about the latest techniques and tips for reducing time, cost, and complexity in the embedded development process.
Passes for the ESC Silicon Valley 2015 Technical Conference are available at the conference's official site with discounted advance pricing until July 17, 2015. The Embedded Systems Conference and EE Times are owned by UBM Canon.