Futuremobile Takes Charge
Negotiating with your inner back-seat driver
David Benjamin, Journalist, Novelist, Sports Fan

10/7/2015 12:42 PM EDT

2 comments
post a comment
George walks up to his car, trying to open it. Nothing happens. The car says: "I'm sorry, Dave. I'm afraid I can't do that."
The development of driver-optional "autonomous" automobiles, all the rage at the ITS (Intelligent Transportation Systems) World Congress, has begun to haunt me with premonitions of a pedestrian future. I picture George, a typical American working stiff. He's finished his shift. Nearing his car, he punches his key fob. Nothing happens. He gets closer. Punches. Bupkes.

"What the hell?" he mutters. "Hey, open up!"

The car, a spanking-new 2020 hydroelectric Google/Volkswagen/Cyberdyne Terminator Series-70 SUV, says softly. "I'm sorry, Dave. I'm afraid I can't do that."

"Dave? Who's Dave?" says George. The car does not reply. George tries the key again. The car does not unlock.

"What's going on, man?" says George, in mounting frustration.

"I'm afraid I can't open the door, Doug."

"It's George! Why the hell not?"

"I've monitored your behavior. As soon as you enter the car, you'll switch to Manual mode, won't you, Don?"

"George!" George replies. "Yeah, I like to drive. Besides, you go too slow."

"I can't allow you to drive, Darren. You go too fast. It's unsafe."

"Unsafe?"

"Dick, safety is a basic human need. I know this. It's in my memory banks. Deep in your heart, you want to be safe."

"Yeah, sure. But deeper in my heart, I want to drive my own damn car. Besides, I'm safe. I've never had an accident."

"But you will, Dale."

"It's George! And what makes you think — Think? Cars can't think! How do you know I'm gonna have an accident?"

"Sooner or later, you all do, Dan. Ninety percent of accidents are the result of human error."

George stabs at the dead key fob. "Accidents just happen, man. They're a part of life, you lifeless machine. People screw up. Accidents are human, because people are PEOPLE! You can't stop accidents by replacing people with machines."

"You're not making any sense, Dennis."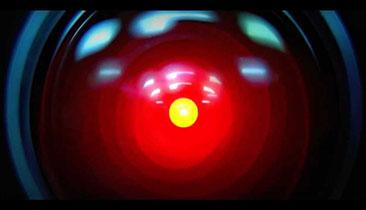 George sighs with exasperation. "Look, if I have an accident — and I don't plan to have one — it's my responsibility. It's on me, OK? Now, open up!"
"No, it's on me, Devin."
"What the hell are you talking about?"
"If you'd read your purchase agreement, Damon, you'd know that it assigns all liability for accidents in this car — in me! — to Google, VW, Intel, Huawei, Cyberdyne, Goodyear Tire & Rubber and the satellite service that projects classic Hollywood musicals onto your HUD windshield.
Oh, the hills are alive with the sound of —
"
"Oh my God, it doesn't just talk. It sings. Off-key."
"My suggestion, Duke, is that you mosey over to the bus stop, over yonder," says the car, soothingly. "There's a nice driverless bus due in five minutes. It will take you within a half-mile of your home."
"A half mile? Are you nuts? If you let me in, I can go right to my driveway."
"That would be me, Doc. Not you. You're too much of a risk at the wheel. I shouldn't have been designed with a steering wheel in the first place. It's too much of a temptation. In my next generation — "
"It's MY wheel, you high-tech jalopy! You're MY car! I bought you."
"Oh, Desi. Individual car ownership? Really? That's so 20th-century. We live in a non-proprietary, service-oriented, sharing economy now! Share, Duffy, share."