Cosmopolitan Collaboration Companies
Aubrey Kagan, Engineering Manager, Emphatec

11/15/2016 01:20 PM EST
3 comments
post a comment
Co-workers from around the world add variety and creativity to the workplace; also, company pot-lucks are tasty affairs.
One of Toronto's claims to fame is that it is the most cosmopolitan city on the planet. How you measure that is beyond me, but the large amount of different cultures is pretty obvious whenever you are in some place where a number of people are gathered, like the subway or a movie.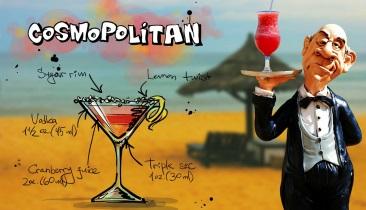 My first job in Canada was working as a Systems Engineer developing the specifications for the Canadarm2 -- the robotic arm on the International Space Station. There were at least 300 engineers on the project and they certainly came from every corner of the Earth: Egypt, Cambodia, Israel, England, Malaysia... there was even a large Canadian contingent as well.
I have worked in my current job for nearly 23 years, and whilst there have always been a wide variety of employee nationalities, I believe that the company is presently at its most cosmopolitan.
There are 16 of us in the company, but only three were born in Canada. In one of those three cases, the person's parents were born outside of Canada (England), while another (the boss, in fact) comes from New Brunswick, and so is also an immigrant to the Toronto area. Even if we stick to a narrow definition of immigration, we are still talking about less than 20% Canadian-born.
The countries that are currently represented are as follows: England (1), Indonesia (1), Hong Kong (2), China (3), Jamaica (1), India (2), Lebanon (1), and Hungary (1); and that's not counting myself, who -- just to make things complicated -- manages to hail from Zimbabwe, Israel, and South Africa.
English is, of course, the lingua franca amongst us. In fact, on occasion, the Chinese and Hong Kong members of staff actually inter-communicate using English as a result of differences in language and dialect.
The actual electronics design department has individual representatives from Hong Kong, Lebanon, India, Indonesia, and -- of course -- my own hard-to-define mix; there's not a single person of Canadian origin on the team. Canada doesn't have anything like the USA.'s H1B program, so everyone started out as a landed immigrant.
Additional countries of origin of employees that we can use to add to our claims of diversity over the years are Brazil, Germany, Laos, Kenya, Tanzania, Poland, Serbia, the Czech Republic, Peru, Scotland, Switzerland, Trinidad, Guyana, Croatia, Romania, and Argentina.
If I can figure out Toronto's formula for its claims to be the most cosmopolitan city on the planet, maybe I can apply it to our group and claim we are the most cosmopolitan company in the world, although the results can be highly-skewed with small organizations. How about your company? Can you compete for this title?
Related posts: