If You Could Have the Ideal Programmable Logic Device, What Would it Be?
Max Maxfield, Designline Editor

6/27/2016 04:55 PM EDT

19 comments
post a comment
An FPGA advert from 30 years ago really emphasizes the tremendous strides that have been made in programmable logic technology.
I just received an interesting email from my chum and colleague Martin Rowe, who is the Editor for the Test and Measurement Designline. It seems that Martin has been spending a happy time perusing old issues of EDN, as part of which he ran across a 30-year-old advert for Xilinx (we really should let him go outside more often).
This was a three-page advert (pages 125-127) in the May 29, 1986 issue announcing the availability of the XC-2064 Logic Cell Array. At that time, if you wanted custom logic in your design, you really had only two options -- simple programmable logic devices (PLDs) like PROMs at one end of the spectrum and the Gate Array (GA) class of Application-Specific Integrated Circuits (ASICs) at the other. (The moniker "Logic Cell Array" was intended to contrast with "Gate Array" -- over time this would transition into the Field-Programmable Gate Array (FPGA) appellation we know and love today).
Here's the first page of the advert, which asks the readers to consider what they would consider to be the ideal logic device: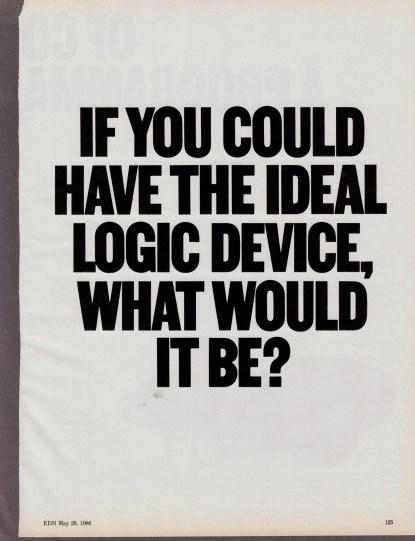 This was followed by an extravagant two-page spread: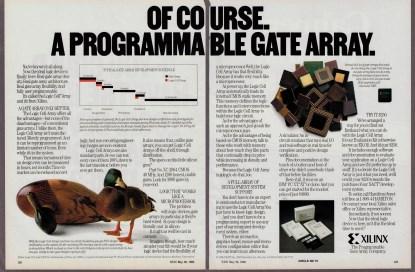 The XC-2064 comprised an 8 x 8 = 64 array of Logic Cells, each containing a 4-bit lookup table (LUT) and a flip-flop, along with 38 GPIOs. That was it. There wasn't even any RAM.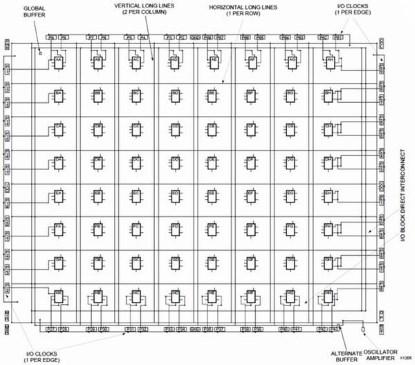 On the bright side, there was sophisticated (for the time) development software available. As the advert says:
There's an interactive graphics based mouse-and-menu-driven configuration editor that you can learn in an afternoon. [Ö] Best of all, it runs on an IBM PC XT, AT or clone. And you can get started or the modest price of just $3600.
What this didnít say is that it was up to the designer to define which function(s) went into which LUT(s) and to enter the contents of the LUTs into the interface by hand; also, to hand-route the design by connecting LUTs to LUTs and GPIOs to LUTs.
I must admit that I'd forgotten about this advert, so the image of a live duck standing next to a wooden decoy duck had me puzzled until I read the accompanying text:
With the Logic Cell Array's real-time in-circuit emulation, you get 100% design verification, in the system. The best you can do with a gate array is simulation. Which is about as close to the real thing as a decoy is to a real duck. So how can you be really sure your design is going to fly?
Ah, they donít write advertising copy like that anymore. This really does take me back. In the early 1980s we (the design team of which I was a member) used simple PLDs quite a lot in our designs to implement things like lookup tables and rudimentary state machines and suchlike.
I remember when we saw these early Xilinx adverts; we did think that these devices looked interesting. The problem at that time was that PLDs were cheap and they were a known quantity. Also, their input-to-output timing was deterministic (it was specified in the datasheet); by comparison, the XC-2064's timing depended on how you partitioned your logic into the LUTs and how you routed the LUTs together.
It's strange to look back and realize that none of us really had a clue where things were going, from the rising size and falling cost of memory, to the increasing capabilities and performance of processors and graphic sub-systems, to the widespread use of the Internet and wireless networks, all leading to the IoT.
If I were to pick one device that exemplifies how little of a clue we had, I think the XC-2064 would be a great contender. Who could have imagined that FPGAs would evolve from that cuddly little rascal to today's behemoths with their multi-hundred-megahertz clocks, multi-hundred-megabit RAMs, hundreds of thousands of LUTs, thousands of DSP blocks, thousands of GPIOs, embedded processor cores, high-speed transceivers... the list goes on.
I've started looking at today's adverts wondering if there are any devices we currently consider to be vaguely interesting, but that actually have the potential to transmogrify the technology landscape. What say you? Were you around when the first FPGAs appeared on the market? If so, what did you think about them at that time? Did you have any idea how far they would evolve? And can you think of any of today's emerging technologies you think we should keep our eyes on?
Related posts:
— Max Maxfield, Editor of All Things Fun & Interesting