Engineering Investigations
Heating Up: Beneath the Surface Pro 4 Tablet
Tom Gregory, 6SigmaET

11/12/2015 08:49 AM EST

1 comments
post a comment
Microsoft's Surface Pro 4 hybrid tablet uses innovative system to deal with heat.
Earlier this week, Microsoft kicked off sales of its long awaited Surface Pro 4, the professional hybrid tablet for those looking for "more than just a laptop".
While the Pro 4 offers a number of benefits over it's 2014 predecessor, one of the big changes comes in the form of an innovative new "hybrid liquid cooling system", which relies on multiple heat pipes to divert heat away from the processor and disperse it evenly throughout the device.
One of the biggest criticisms of the Surface Pro 3 was its predisposition for over heating, with many users complaining that the top right-hand corner of the device where the CPU was housed would often reach worryingly high temperatures. With many customers choosing to complain, or in some cases even return their devices, the Pro 3 represents a core example of how thermal management can move from a purely technical issue to a genuine customer service problem.
A quick Google search for the Surface Pro 3 reveals how quickly such issues can spread online, with top results including complaints about "constant overheating", news articles on "the most common Surface problems", and even consumer advice forums instructing users how to return their overheating devices.
While such problems may have long plagued the Pro 3, the newly launched Pro 4 offers a far stronger degree of thermal management.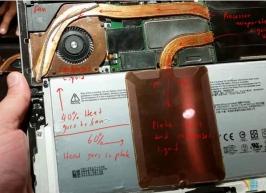 Through the use of computational fluid dynamics, companies such as Microsoft are now able to identify "problem hotspots", working out the best way to disperse any build up of unnecessary heat -- in the case of the Surface Pro 4, the introduction of hybrid liquid cooling.
This innovative new system works by diverting heat away from the processor through two separate cooling tunnels. One of these tunnels directs heat towards the device's internal fan, while the other pushes it in the direction of a central heat sink (a large copper plate that sits underneath the device's kickstand). By distributing heat in this way, Microsoft has been able to avoid the complaints that surrounded the Pro 3, and instead disperse heat evenly in a way that most consumers would barely notice.
Such innovative cooling techniques are growing increasingly common within the consumer electronics market. As customers demand smaller, yet ever-more powerful devices, internal fans simply cannot cope with the level of excess heat being generated. As a result, the need for creative cooling solutions is becoming increasingly apparent. Technology developers such as Fujitsu have started designing heat pipes and ultra-compact liquid cooling systems that could help CPUs and other heat-generating components run cooler and prevent concentrated hot-spots inside devices.
The fact is designers have to face up to the challenge that customers want a full power computer in a tablet or phone form factor. However, increased power demands and new form factors mean designers simply cannot use rules of thumb to develop the cooling for the latest phones and tablets. The thermal design is key part of the overall system design, and simulation and advanced cooling techniques are required, not a 'nice to have.
Leaving thermal analysis until after the prototype phase is too late, thermal simulation needs to be fully integrated into the design process from the outset if the best results are going to be achieved.
Tom Gregory is product specialist at 6SigmaET.
Article originally posted on EE Times Europe.