Engineering Investigations
Monkeying with Virtual Reality
Brave New World: Virtual, augmented, hybrid, hyper, diminished realities
Max Maxfield, Designline Editor

7/14/2016 06:44 PM EDT

4 comments
post a comment
Augmented reality involves adding computer-generated sensory input to a real-world environment, but what if the computer deletes things from the scene?
My mind is currently churning with thoughts about the potential uses of various forms of virtual and augmented realities (VR and AR), all sparked by my recent acquisition of a virtual reality system composed of an Oculus Rift coupled with a processor-graphics combo.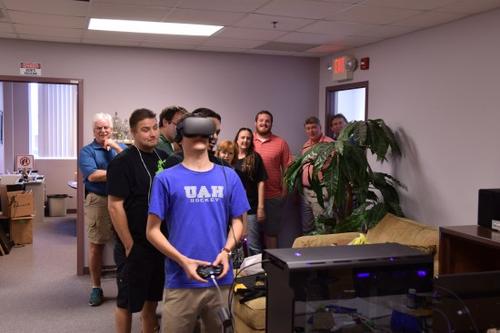 Virtual Reality (VR)
Now, before we plunge headlong into the fray with gusto and abandon, it may be a good idea to take a deep breath and start by considering what we mean by virtual reality. Actually, even the concept of reality is a little fluffy around the edges. For example, the Holographic principle suggests that the entire universe can be seen as two-dimensional information presented on the cosmological horizon (my dear old mother, by comparison, suggests that the Holographic principle is a load of twaddle).
Personally, I would argue that virtual reality is anything that allows us to experience a different reality to the one we perceive through our senses. On this basis, ancient humans sitting around campfires listening to their storytellers weave fantastic tales were experiencing a form of virtual reality. Similarly, fictional books allow us to envision alternative realities, as do traditional two-dimensional (2D) and three dimensional (3D) movies.
Today's computer-simulated immersive multimedia virtual reality systems take things one step further, but that step is a humongous one. It's impossible to convey the experience of using an Oculus Rift-based virtual reality system -- you really have to try it for yourself. (In a future column I will be comparing and contrasting a variety of systems, including the Oculus Rift and the HTC Vive.) Once you don the Oculus headset with its integrated headphones, you are transported to a different world with associated sound effects. It's more than having the ability to look up at the ceiling or down at the floor or all around you -- if you tilt your head to one side, crouch down, stand on your tippy-toes, or move forward, backward, or sideward, your perspective changes accordingly.
The closest thing I can use to describe this experience is being on a Star Trek Holodeck, and we're still only at the beginning of this technology. For example, I'm currently using the Xbox one controller that came with my Rift, but I'm anxiously awaiting the availability of Oculus Touch controllers, which will add a new dimension to the proceedings by allowing you to "see" virtual representations of your hands in your virtual world and precisely manipulate objects in your virtual environment.
Continue reading on EE Times' sister site, Embedded.com.