Your Favorite SciFi in Audio Form for Free
Free sources for audio versions of sci-fi
Web sites such as Open Culture and the Internet Archive are good sources for free audio versions of science fiction books such as Issac Asimov's Foundation Trilogy.
Like so many in the fast-paced, high-pressure tech industry, I find it hard to schedule time to relax and read a good book. Fortunately, now it's getting easier with the availability of ebooks and audio books, no further away than your Kindle, MP3 player, mobile device, or portable laptop. For me, ebooks are good for reading and absorbing non-fiction, especially with the text to speech translation feature that platforms such as Kindle provide. When I am driving or sitting for hours in a plane and want something more stimulating than reading my emails, I often read/listen to an ebook on some non-fiction topic I want to learn more about.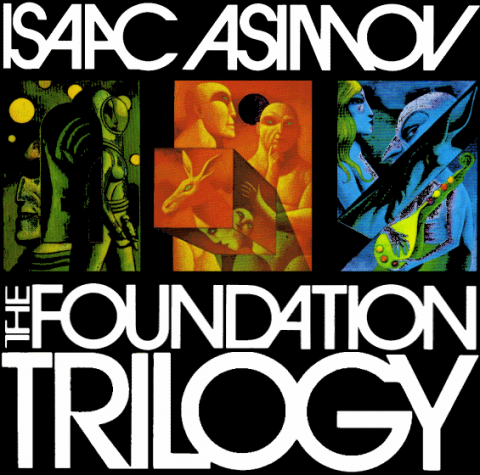 For fiction, however, I prefer the audio versions. When well-done they are often more compelling and absorbing than the text version. This makes sense when you remember that fiction in book form only started in the seventeenth century. Before that the stories we made up were told verbally around the fireplace in a home, in some lord's castle related by a raveling entertainer, and, originally, around a campfire in a cave. We listened to stories centuries before anyone invented a way to print them in books.
Listening to a book of literary fiction read aloud by a skilled reader, I catch nuances of meaning and emotion I missed when reading it in text form. Also, when I listen to a book of classic literature I last read in college and put aside because of the archaic language, I am surprised how much more understandable and compelling it is.
And for easy mindless distraction while I am driving, doing yard work, or riding in a bus or a plane, nothing can beat listening to my favorite form of popular fiction, SiFi.
The problem is that audio books are still expensive compared to a paperback and I take care to buy books I know I will listen to again and again. Among my favorite science fiction novels I have purchased from Amazon's Audible subsidiary are some by Robert Heinlein and Arthur C. Clarke. My biggest investment has been the purchase of the entire Galactic Center series by physicist Gregory Benford.
This is a multigenerational series of novels about an extended family that voyages to the center of the galaxy in an environment of black holes, exploding stars, and massive plasma streams as dangerous to the humans as their mechanical nemesis out to destroy life in the galaxy. Benford's ability to describe aspects of plasma physics in an more visceral form gave me a better feel for the nature of the phenomena than mere equations could. In the audio format it was much clearer to me how much the physical environment of shifting time perspectives and states of matter was an active character in the story and not just a backdrop.
Audio sci-fi for free
A web site that keeps me up to date on the newest sci-fi novels or short stories available for free download in audio form is Open Culture and its associated email alerts each week. Rather than just maintain static lists on line, Open Culture puts together regular reports on new content. This month, I was notified of 188 free dramatized audio science fiction stories and books, most of them from a radio show started in the 1970s called MindWeb. It That series broadcast and recorded readings of the works of a range of science fiction authors such as Brian Aldiss, J.G. Ballard,, Ray Bradbury, Arthur C. Clarke, Philip K. Dick, Philip Jose Farmer, Howard Fast, Ursula K. LeGuin, Norman Spinrad, and Theodore Sturgeon, sometimes read by the authors themselves.
Open Culture also notified me that it had links to not one, but three different audio versions of Isaac Asimov's Foundation Trilogy. He wrote them in the early 1950s before getting side-tracked by such things as being a professor of biochemistry.
Because they are Asimov's first efforts, the narrative in these early novels is stilted and characterization is primitive with simple detective story-like plot lines. But just as the audio version of a well written book of fiction can make it even better, the same is true of not-so-good ones. I found that the audio version of the Foundation series much more compelling than the original written form. Later audio books in the Foundation series, which Asimov went back to writing in the 1980s, are also available from Audible.com, for a price of course.
Another site that offers a wide selection of free audio books by a range of science fiction writers is the Internet Archive, which has a listing of about 300 books, in audio form, from the very earliest days of science fiction. I went back there recently and found many authors and books I had forgotten about and with whom I am renewing my acquaintance in audio form.
In some cases free audio books are read by volunteers who not are professionals. But occasionally they are high production value presentations originally created by organizations such as the BBC which have been made available for free, because these original versions have been replaced by newer versions of the same content. While the quality of the audio varies, the volunteer untrained readers provide an important service by making available audio versions of out-of-print science fiction that would not otherwise be available. They are often fans of the particular authors and have taken on the task of making sure that their favorites are available on line for enjoyment by others.
—Bernard Cole covers microcontrollers and printed circuit boards for EE Times

. Contact him at bccole@techrite-associates.com. More about Bernard Cole.