The IoT Library: Integrating Smart Power & Tech Key to Smart Home
Richard Wallace, Technology Journalist

7/25/2016 09:33 AM EDT

0 comments
post a comment
Despite all our advances notwithstanding, few people have ever actually seen a smart home, while even fewer have ever lived in one. Full potential of the smart homes and commercial buildings requires a new approach.
Products like Nest's Internet-connected 'learning thermostat' and similar remote-control lighting and appliance controllers have given consumers a glimpse of smart home technology. At the same time, the growing popularity of domestic robots has opened the door to advanced technologies like sensor-based systems, voice recognition, and artificial intelligence in the home.
These advances notwithstanding, few people have ever actually seen a smart home, while even fewer have ever lived in one.
Tapping the full potential of the smart homes and commercial buildings will require a new approach to smart power, which can be defined as the integration, and deployment of an efficient electric energy management system that is capable of intelligent interaction with new and emerging consumer electronic technologies and a smart electric power grid.
The payoff will be significant. In 2015, about 40% of total U.S. energy consumption was in residential and commercial buildings — about 39 quadrillion BTUs, according to the U.S. Energy Information Administration. But absent a new approach to power use, much of this energy it wasted as homeowners leave air conditioners on in empty homes, office workers keep equipment and lights on overnight, etc.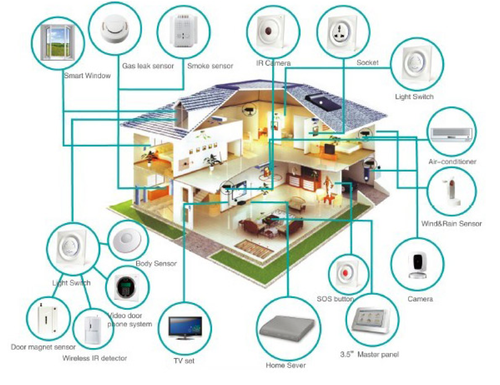 According to a National Renewable Energy Laboratory white paper, the smart home goal is defined as "a well-designed structure with sufficient access to assets, communication, controls, data, and information technologies for enhancing the occupants' quality of life through comfort, convenience, reduced costs, and increased connectivity."
The challenge is to squeeze as much useful performance as we can from the energy we generate—whether the generation is from rooftop solar panels and backyard windmills or giant power plants. Smart homes and office buildings can add considerably to efficient, responsible use of energy, saving money and minimizing environmental impact while also giving consumers and business managers greater control over their building infrastructure.
From a current engineering perspective, achieving this goal will require a higher level of comprehensive, multidisciplinary technology integration than currently exists. The mix of key smart home components and technology needing further integration include:
Intelligent power generation: Using multiple distributed sources like central power stations, wind and solar installations, energy harvesting to provide energy when and where it is needed.
Data collection: Deploying sensors to detect ambient temperature, light, vibrations, smoke, chemical hazards, etc., coupled to area control and master control units that initiate actions in response to detected conditions.
Analytics: Software that analyzes collected data for operational evaluation, equipment alerts, cost breakdowns and other outputs.
Connectivity: Central wired systems can use the Internet Protocol (IP) to handle large data, but sensing units — often battery powered — require either wireless protocols such as Zigbee, or power line communications (PLC), given the need to conserve power and minimize installation costs.
Compact, low-power hardware: Semiconductor-based solutions for monitoring, communications, control and efficient power conversion are the primary drivers for the development of smart power.
Broadly, what I am describing is monitoring, connectivity and control. Some people in the industry (for example, TI) have come up with a new term — smart power — to describe this set of functions. Simply defined, the goal of smart power is to provide energy when and where it is needed, drawing upon a multiplicity of sources.
---
IoT Library

A word about this column: If you're like most engineers, you are forever on the lookout for fresh ideas and smart solutions. You have or are building your library of technical papers, documents, data sheets, products, technologies, standards, and applications for future and handy reference.

My goal here, and in future columns, is to explore some of the day's greatest IoT design challenges — such as low power micro-computing, signal conditioning, wireless communications, sensors, actuator control, more efficient power sources and the man-machine interface — and pass along some useful resources. I hope you will find them valuable enough to archive or share.

Most important: It would be great if we could collaborate. Send me (richardkwallace@gmail.com) relevant knowledge resources that you may have found so that we can compile them for easy access.
---
--Richard Wallace is a former editor in chief of EE Times. He has followed and reported on electronics, technology and design for 40 years, most recently as an independent journalist, online. You can reach him at richardkwallace@gmail.com.

Related content: