IoT Library: Mesh Networks Ideal for Smart Home Control Applications
Richard Wallace, Technology Journalist

4/27/2016 09:29 AM EDT

1 comments
post a comment
Mesh networking is emerging as an ideal design solution for interconnecting a large number of network devices.
The Internet of Things will have an estimated 6.4 billion "connected things" by the end of 2016 according to technology research firm Gartner. Increasingly, mesh networking is emerging as an ideal design solution for interconnecting a large number of network devices, especially for smart home applications.
Mesh networks rely on wireless nodes rather than centralized access points to create a virtual wireless backbone. Thus, mesh networks offer the ability to connect wirelessly devices and computers directly, without a phone company or ISP link. All mesh nodes cooperate in the distribution of data in the network, and mesh networks can relay messages using either a flooding technique or a routing technique. In a mesh arrangement, network nodes establish network links with surrounding nodes, enabling traffic to hop between nodes on several paths through the network. Mesh networks are said to be self-healing, self-organizing and scalable, merely by adding more nodes.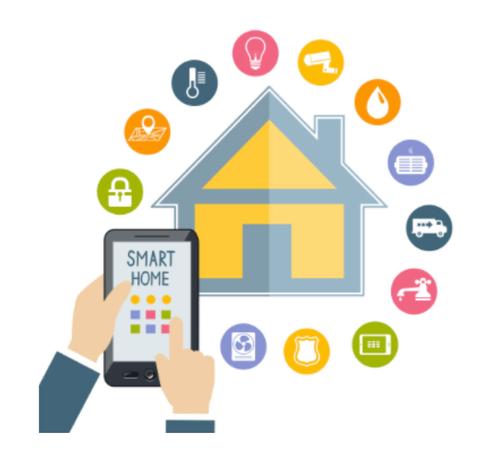 Internet of Things (IoT) network meshing enables a high degree of integration for connected things such as lights and thermostats that contain embedded sensor technologies. It allows these devices to communicate without relying on PCs or dedicated hub services. For designers, this makes it relatively easy to build a network of connected devices, inexpensively. Also, there are plenty of technology options available for connecting IoT devices, including cellular networks, Wi-Fi, the cloud or Bluetooth. In addition, the ZigBee Alliance and Google-backed Thread Group have both developed a significant foundation within the IoT and wireless meshing realm, and the two groups are collaborating further to develop connected home products.
A good example of how mesh networking is making its way into the home can be seen in GE Lighting's recent adoption of Bluetooth mesh technology from Telink Semiconductor. GE will reportedly use Telinks mesh technology to connect LED light bulbs in a new connected home application. Telink's makes highly integrated low-power radio-frequency and mixed-signal system chips for Internet of Things (IoT) applications.
"For many, lighting is the gateway to a smart home that connects other devices including smart thermostats, security cameras, and smoke alarms. While interoperability is key, in a crowded market with no clear platform winner, we wanted to give consumers the option for a standalone smart lighting solution." says Tom Stimac, GE Lighting's chief innovation manager.
GE will use Telink's proprietary BLE mesh technology which is said to uniquely update in real-time and reflect multiple nodes' status automatically using Telink's patented network traffic control technology. In addition, the mesh supports a synchronized control mechanism, which can guarantee a large number of lights to be on/off or controlled at the same time. The same hardware can also be used for Apple HomeKit support.
Mesh networking is rapidly becoming an integral component in ensuring consumers' Bluetooth enabled smart locks, lights, HVAC (heating, ventilation and air conditioning) systems, and appliances work together to deliver a seamless smart home experience. Wenjun Sheng, CEO of Telink Semiconductor, explains, "In smart home control, our BLE mesh technology can support multiple terminals to control multiple smart devices simultaneously in real time. Without the appropriate network traffic control technology, it is very hard to update and reflect the status of multiple smart devices on every control terminal in time and automatically; this could result in inconsistent control and might lead to devices and controllers not being in sync."
Telink's wireless smart lighting solution will enable GE customers to implement easily features like on/off control, dimming and color space (luminance/saturation, RGB) control, grouping control, scene mode control, timer or sensor integration, control bridge, mesh networks and power consumption profiling in home automation applications. Its all-in-one TLSR8269 system-on-chip combines the requisite radio frequency (RF), digital processing, protocol stack software and profiles for Bluetooth Smart, BLE Mesh, 6LoWPAN, Thread, ZigBee, RF4CE, HomeKit and 2.4GHz proprietary standard support in a single chip.
For an informative design tutorial that explores the role of networking in the Internet of Things see Mark Pacelle's Mesh networking extends IoT reach: A suitable network topology for building automation, and the video How Mesh Networks Work, produced by Harvard's Berkman Center for Internet & Society.
---
IoT Library

A word about this column: If you're like most engineers, you are forever on the lookout for fresh ideas and smart solutions. You have or are building your library of technical papers, documents, data sheets, products, technologies, standards, and applications for future and handy reference.

My goal here, and in future columns, is to explore some of the day's greatest IoT design challenges—such as low power micro-computing, signal conditioning, wireless communications, sensors, actuator control, more efficient power sources and the man-machine interface—and pass along some useful resources. I hope you will find them valuable enough to archive or share.

Most important: It would be great if we could collaborate. Send me (richardkwallace@gmail.com) relevant knowledge resources that you may have found so that we can compile them for easy access.
---
--Richard Wallace is a former editor in chief of EE Times. He has followed and reported on electronics, technology and design for 40 years, most recently as an independent journalist, online. You can reach him at richardkwallace@gmail.com.

Related content: