Friday Quiz: Intelligent Instruments, DMMs Part 1
Martin Rowe, Senior Technical Editor

7/1/2016 00:02 AM EDT

0 comments
post a comment
Can you name these "intelligent" DMMs featured in an EDN article from 1982?
What would you do without the DMM (digital multimeter) that's on your bench, in a rack in your lab, or on the production floor? Bench DMMs have been a mainstay of engineering labs for over 35 years. It's quite possible that you're still using some that are 20-to-25 years old. After all, Keysight Technologies only recently announced the demise of the classic 34401A and Keithley still manufactures its Model 2000.
On March 3 1982, EDN published "Intelligent Instruments" written by Gary Chesnutis. This ten-page article covered 21 test instruments, all which had microprocessors and some form of communications. The IBM PC was less than a year old at the time this article was published. Thus, it's highly unlikely that engineers were using them to collect measurement data. If you were using a PC then, you probably wrote your own program to automate the measurements.
Of the 21 test instruments in that article, 13 were DMMs. Six appear this week with the remaining seven units will come next week. The non-DMMs will appear in later quizzes.
If you happen to have a copy of the issue that contained this article, then you'll have the answers. While the questions ask for manufacturer names only, you get extra credit if you know the model number. As usual, answers (manufacturer name and model number) appear on the last page.
The issue's cover appears below, with the inside article full-page opening graphic to appear next week. The cover image below makes you think that the article is a quiz. It isn't, until now.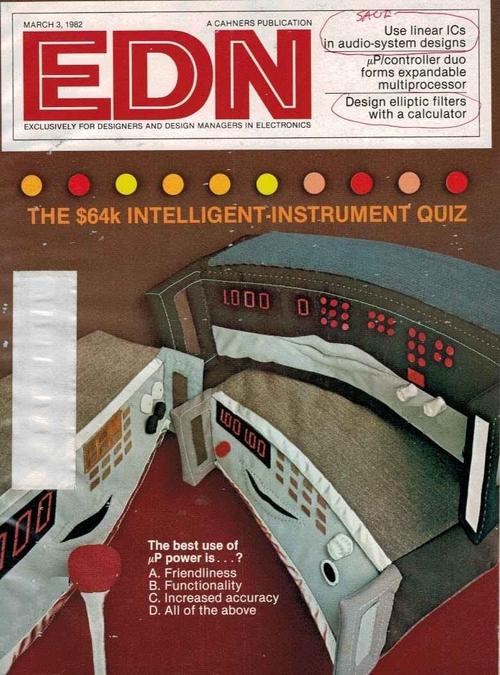 1. This 5½-digit DMM is designed using modules that let you select features such as true-rms measurements, and resistance-ratio measurements. Which company manufactured it?
Guildline Instruments
Wavetek
Hewlett-Packard
Data Precision
Tektronix