Secure WiFi Shield for Arduino Platforms
Max Maxfield, Designline Editor

9/19/2014 04:06 PM EDT

0 comments
post a comment
I find myself using Arduinos more and more these days. (See my Vetinari Clock, BADASS Display, and Inamorata Prognostication Engine projects, for example.) In fact, it seems like every time I turn around, I think of something else I want to do with them.
Just last evening, for example, I was thinking that I have never really played with servos. I always meant to do something with them, but I never seemed to get around to it. (There are so many fun things to do … but so little time to do them all in.) Anyway, I was meandering my way around the Internet -- as you do -- when I ran across this Instructables project for a set of animatronic robot eyes.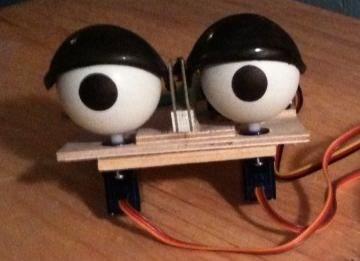 As soon as I saw these eyes, I started thinking of interesting things I could do with the little rascals. I couldn't help myself -- I am a man of little willpower -- I immediately bounced over to the Adafruit website and ordered a 16-channel servo shield and four micro servos.
I will be reporting my progress in future columns, but at the moment I have something else on my mind (I use the term "mind" in its loosest sense). More and more, I'm finding reasons to connect my Arduino-based products to the Internet. Everyone is talking about the Internet of Things (IoT) these days, and -- by golly -- I want my things to be on the Internet.
In order to do this I need WiFi capability. More than that, of course, I need secure WiFi capability. I don't want some nefarious stranger to be able to take control of my Inamorata Prognostication Engine, for example -- the results could be cataclysmic and change the world as we know it.
You can only imagine my surprise and delight to hear that the folks at Atmel and the guys and gals at Arduino have just announced the Arduino WiFi Shield 101, which is designed to enable rapid prototyping of IoT applications on the Arduino platform.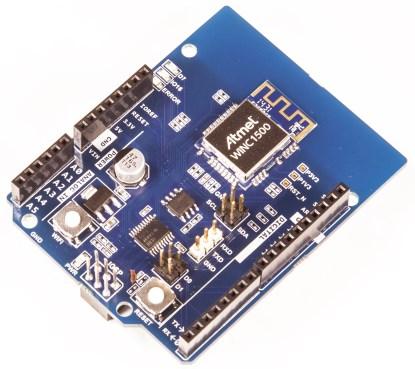 They describe this little beauty as a "cost-effective, easy-to-use, high-performance shield that enables design engineers, makers, and educators to create innovative solutions not yet imagined." I like the sound of this, not the least that most people find my projects hard to imagine (LOL).
The Arduino WiFi Shield 101 is powered by Atmel's wireless network controller, which is part of the SmartConnect family. One key point as far as I'm concerned is that the shield also includes Atmel's Crypto Authentication device, which -- I am informed -- will let me "easily incorporate hardware authentication capability into my designs."
If you want to learn more about the Arduino WiFi Shield 101, good places to start would be this press release, followed by the Atmel and Arduino websites. While you're busy doing that, I think I'm going to spend a few minutes contemplating how this shield will fit in with my plans for world domination. Do you have any projects that could be enhanced by means of this little scamp?
Related posts:
— Max Maxfield, Editor of All Things Fun & Interesting