Infographic: Atmel's in the Driver's Seat
Max Maxfield, Designline Editor

8/7/2013 11:50 AM EDT

8 comments
post a comment
Did you know that scientists in Germany have equipped a car with new technology that allows it to be driven using the driver's thoughts? How about the fact that it is estimated that more than 1 billion passenger cars travel the streets and roads of the world today?
Where did I hear all this? Well, that little scamp, Sylvie Barak, the Communities and University program manager at Atmel, seems to have found a new calling with regard to infographics.
First we had Sylvie's
Geek Pride Day
depiction of the way in which geeks have been building the Internet since 1832 (I'm still hoping Atmel will print this graphic on a special "Donít Panic" towel... just in case...). This was followed by her
American Manufacturing on the Rise
offering, which was created as part of this year's Independence Day celebrations.
But we digress... Sylvie just sent me the following infographic: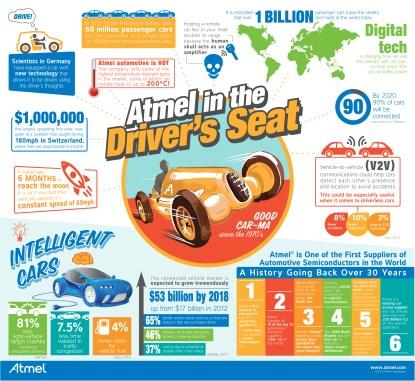 This little scamp (the infographic, not Sylvie) was accompanied by the following message:
Itís a funny thing, the love people have for their cars. How the purr of an engine can make people weak at the knees, how a controlled explosion on wheels can give people such deep satisfaction.

Head on over to Hot August Nights in Reno over the next week, and youíll see this love of automotive spill over from one era to the next, with vintage beauties polished and gleaming, proudly on display.

As any engineer or car enthusiast can attest to, the simple fact is that thereís a level of "Zen" to be found in tinkering around with an engine -- souping it up and making it hum. Possibly, this has to do with the thrill of puzzle-solving and figuring out the multitude of intricacies beneath the hood.

The folks at Atmel seem to be especially passionate about the automotive space, probably owing to the fact the firm was one of the first semiconductor companies to enter the market. The German company Telefunken (the pre-predecessor of Atmel Automotive) was founded way back in 1903, while the follow up Heilbronn fab, acquired by Atmel in the 1980ís, was founded in 1960.

Early successes included electronic ignition ICs (which were fitted into every Volkswagen in 1980) and braking systems, and today Atmel hails itself as a supplier to all 10 of the top 10 tier 1 automotive electronic suppliers in the world; not only for microcontrollers (MCUs), but for touch sensor technology too.

In fact, with Xsense -- Atmelís new bendable, flexible, printed touch sensors -- now fully qualified and ready to ramp, curved glass dashboards are closer than youíd imagine... not bad for a feature originally developed as a piece of wood attached to the front of a horse drawn carriage to prevent mud from splattering the driver!

Digital technology is changing how we use and interact with our cars, and quickly. A recent study from Telefonica noted that, by 2020, 90% of cars will be connected using V2V (vehicle to vehicle communications).
The Atmel infographic shown above highlights the transition from vintage to modern of which Sylvie speaks, and it's packed with fun facts to boot. So check it out and then let Sylvie know what you think in the comment section below!
Related posts: