Voltís Price Drop Isn't Like Smartphone Cost Cut
Junko Yoshida, Chief International Correspondent

8/12/2013 07:00 PM EDT

46 comments
post a comment
MADISON, Wis. — General Motors' announcement last week to cut $5,000 from the price of the Chevy Volt thickens the suspense about the future electric vehicles (EV).
Is the EV a dead horse the auto industry is flogging, or is it the loss-leading investment carmakers have to make if they hope to have a future?
Of course, if you're already an EV skeptic, the narrative plays out easily: The price cut is just one more desperate measure to entice consumers to change their minds about the so-far unpopular EVs. It also exposes the folly of generous federal subsidies meant to prop up consumer demand -- since a $7,500 federal tax credit obviously wasn't big enough to launch an electric revolution.
Those who advocate EVs, however, are already spinning the price reduction as part of the natural market process, in which greater volume in production spawns greater efficiencies and lower prices.
The important thing to note is that GM is not alone in introducing drastic price cuts in recent months. Noting a succession of manufacturers that have chopped prices on their EVs and plug-in hybrids, Design News reported:
Those include Ford's Focus EV ($4,000 cut), Nissan's Leaf ($6,400), and Honda's Fit EV ($259-a-month lease). GM also previously offered an incentive of $4,000 on the 2013 Volt, but that incentive was not reflected in the car's initial price.
So, as it stands now, how much does an EV cost?
With the $6,400 price drop, Nissan's Leaf, for example, is now priced at around $22,000 after a $7,500 federal tax credit. That, in effect, is said to make the Leaf almost comparable to gasoline-powered compact cars.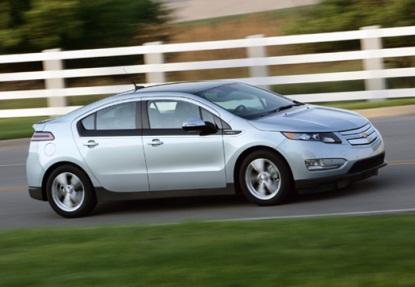 The story for GM's Chevy Volt is similar. The 2014 Volt will sell for $34,995 with the latest price cut. Subtract the $7,500 federal credit and the sticker drops to $27,495. Further incentives, such as state rebates, could take it as low as $22,495 in some states, according to Design News.
What we don't know, however, is how much of the price cuts come from cheaper technology and lower business costs. Are they simply driven by artificial price maneuvering and political moves on the part of subsidy-dependent carmakers?
More specifically, at these prices, are GM or Nissan actually losing or making money every EV they sell? We don't know the answer to that, either.
Nissan explains that its savings come from moving Leaf production to Smyrna, Tenn., from Japan, contributing to Nissan's $6,400 price cut early this year. Beyond saving costs on shipping, Nissan explained that moving production of the expensive lithium ion battery module and the electric motor in-house in Tenn. has saved money, too.