Wireless Audio, Voice Control & Other Audio Gizmos
Blog

7/7/2015 04:00 PM EDT

0 comments
post a comment
CEVA's Eran Belaish looks at the fast growing wireless audio market, and the range of technologies that are being deployed there today.
The smartphone era has triggered several advances in audio, such as wireless audio and voice control technology that actually works! Consider, for example, how you connect your phone to your car's audio system -- that's Bluetooth audio right there. Other examples include wireless speakers, Bluetooth headsets, smart earbuds, sound bars, and sound projectors. Most of these products didn't exist just a few years ago. If we break down the technologies "under the hood" of such devices, it's easy to see just how complex they've become.
Consider the following example: Assume you are taking a shower while enjoying a playlist sent by a friend playing on your Bluetooth shower speaker. Suddenly, right after one of your favorite songs, comes one of the worst songs you have ever heard. And not only that, but you are about to be compelled to listen to all of it as your smartphone -- which is streaming the audio to your speaker -- is in the other room! But then you remember that your speaker has a cool voice control feature, so you give it a try and -- like magic -- that terrible song fades away and a much better one starts playing.
There are quite a few technologies involved here, most of which are quite challenging to implement. These include wireless connectivity (Bluetooth in this case, but could also be Wi-Fi), audio playback, always-listening voice trigger, voice recognition, far-field voice pickup, multi-microphone beamforming, noise reduction, and acoustic echo cancellation. Now imagine that you need to build such a system. Well, you might think that for any major feature like wireless connectivity or voice control, you might need independent solutions like an MCU for the Bluetooth processing, a DSP for the voice control and audio playback, etc. While this approach will work, it will also result in an expensive solution and a wasteful one in terms of power consumption, which spells bad news for any battery-operated product. One way to overcome the cost and power consumption limitations would be to integrate all the required wireless and audio technologies into a single System-on-Chip (SoC) that requires only a single processor core. One company that is taking this approach is China's Beken Corporation, which is utilizing a sophisticated DSP core to implement the audio, voice control, Bluetooth and Wi-Fi processing.
Always-listening technology is so 1984 ("Honey, SHHHH, the TV is listening")
The latest audio and voice enabled devices often incorporate the 1984'ish feature of an always-listening microphone. Be it a smart mic with always-listening capabilities of its own or a basic mic which merely relays the input signal to a processor, such a device has the potential to listen to every word we're saying. You can find more information here with regard to always-on technology in general; also there's the Wired article Tech That's Always Listening Isn't Always Creepy, so no worries. Whether we like it or not, it won't be long before always-listening devices are all around us, so we'd better get used to them.
Superb voice recognition by Amazon's Echo
One wireless speaker that's taken the always-listening feature to a whole new level is the Amazon Echo. With no less than seven microphones, the Echo boasts superb voice recognition and offers much more than just audio control as it answers questions, tells jokes, and controls smart home appliances. The multi-mic design enables advanced beamforming and noise cancellation, which supports voice recognition even when music is playing from as far as 30 feet away as discussed in this review.
Looking under the hood in this teardown, it's quite easy to see why the Amazon Echo must be constantly plugged in (unlike other wireless speakers) and why its price tag is so high -- some of its components are a complete overkill, like TI's DaVinci chip which doesn't even support wireless connectivity (Amazon required yet another chip for that -- the Qualcomm Atheros). This system was certainly not designed with low-cost mass-production in mind.
Major cost reduction ahead
As wireless audio, voice control, and other advanced audio technologies become commoditized, it is inevitable that there will be a major cost reduction that enables mass production and scalability. Already, it is estimated that the Bluetooth audio and voice device market is shipping at a rate of 20 million units per month, and these devices are continually becoming cheaper while offering more complex features. Addressing these markets is the "name-of-the-game" for CEVA's customers, such as Actions Semi, Vimicro, and Beken, which are already big names in the huge Asian markets. These companies develop their own low-cost SoCs integrating DSP and connectivity IPs to deliver complete wireless audio solutions offering superb performance with minimal power consumption and area.
While chips from TI and Qualcomm -- such as those used in the Amazon Echo -- are fine for a first-generation product targeting the high-end consumer market with limited production in mind, they won't do the job when you want a battery operated wireless speaker with a low double-digit price tag (or even a single digit one!).
Eran Belaish serves as CEVA's Marketing Manager of Audio and Voice Product Line, overseeing Audio and Voice processing, Android interfaces, wearable devices, and Wireless Audio. Prior to this position, Eran served as CEVA's Senior Compiler Group Leader responsible for managing all compiler-related research and development, and before that he held several engineering and management positions at CEVA since 2003. Eran holds a B.Sc. in Electrical Engineering and Computer Science from Tel-Aviv University.
Related posts:
---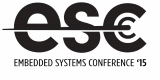 Join over 2,000 technical professionals and embedded systems hardware, software, and firmware developers at ESC Silicon Valley July 20-22, 2015 and learn about the latest techniques and tips for reducing time, cost, and complexity in the embedded development process.
Passes for the ESC Silicon Valley 2015 Technical Conference are available at the conference's official site with discounted advance pricing until July 17, 2015.
Make sure to follow updates about ESC Silicon Valley's talks, programs, and announcements via the Destination ESC blog on Embedded.com and social media accounts Twitter, Facebook, LinkedIn, and Google+.
The Embedded Systems Conference, EE Times, and Embedded.com are owned by UBM Canon.