T&M Survey: The Age of Today's Engineers
Martin Rowe, Senior Technical Editor

10/6/2015 00:10 AM EDT

2 comments
post a comment
An EE Times/EDN survey shows that a high percentage of readers have over 20 years experience. Do you need brighter lights in your work area?
Last year, I attended a 50th birthday party at a restaurant. The lighting was kind of low and when the menus came around, everyone at the table (except me) pulled out his or her phone and turned on the LED flashlight. At the next table, where a group gathered for a 30th birthday, nobody needed the extra light. If our recent survey of EE Times and EDN readers is any indication, plenty of you use your phones to read menus.
OK, not everyone who reads EE Times is over 50, but the vast majority of you (74%) have at least 20 years of experience, according to out EE Times/EDN recent test & measurement market survey shows.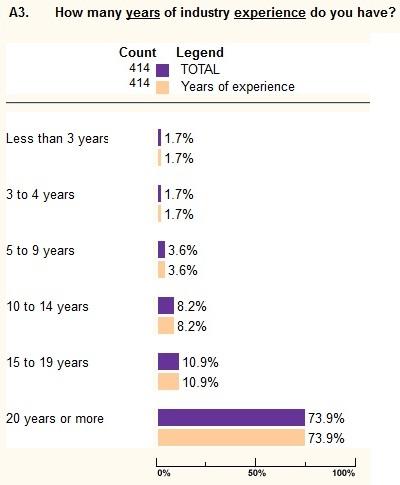 Have you noticed that you need better lighting in your office or lab? Do you need a separate monitor to better see waveforms from your oscilloscope? If so, you're not alone. According to an article in Technology Review, the percentage of older workers is growing. Our data certainly echoes that.
The Technology Review article cites several reasons for an older workforce, including longer life spans and healthier lifestyles. But, it also points out that low-paid workers may work longer because they can't afford to retire.
The eyes of engineers, technicians, and production workers in electronics face an additional hurdle: Components and PCB traces keep shrinking. The article says "the eyes of 60-year-olds take in only about a third as much light as those of 20-year-olds, because their pupils are smaller and their lenses cloudier."
The article also highlights that older workers need to sit straighter than younger counterparts. (How often did your parents tell you to "sit up straight" and do you tell that to your children now?) Do you use a keyboard tray or other device for better ergonomics? When I moved into my home office in 2012 (see "Related articles" below), I installed keyboard trays under the new desk and bought a more comfortable chair, knowing I'd be at my desk 25 hours a day.
Have you needed new chairs, added pillows, or found other ways to alleviate discomfort at work?
Related articles: