Incandescent Lamps and Service Life
Long live the Livermore bulb
John Dunn

10/21/2016 02:29 PM EDT

0 comments
post a comment
Why would this incandescent light bulb still work after 100 years? What keeps it going and what design lessons can we learn?
Yes, incandescent lamps are still with us. A lamp's service life can be extremely brief or it can extend for many hours, days, months, years, or even decades.
Theatrical lamps for example are run at great stress to get as much light out of them as possible and as a result, they may only last for perhaps a few hours. However, at the other extreme, please see this link about the Centennial Light, which is a carbon filament lamp that has been operating almost without interruption since 1901.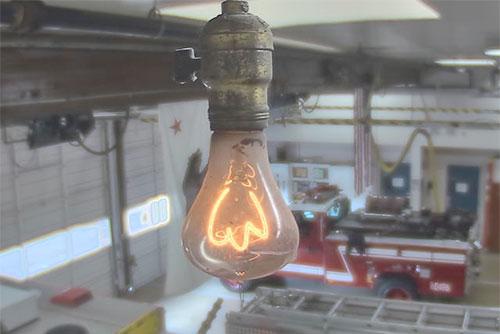 Any prediction about operational lifetime is an approximation at best based on some "average" lamp being operated from an AC line. Lamp manufacturers can't guarantee a minimum number of operating hours because each individual lamp's lifetime is dependent on so many factors that lie outside of manufacturing control. You certainly can't test all of the incandescent lamps on a production line at their rated voltages to determine their exact life expectancies. Instead, approximate ratings have to be developed from test voltages that are applied to lamps that have been set aside somewhere and subjected to test procedures that are designed to accelerate lamp aging. From those test results, the attempt is made to estimate lamp life expectancies in general.
The brightness and current consumption properties of higher voltage lamps tend to be less dependable than those of lower voltage lamps and they tend to exhibit less predictable lifetimes. Also, higher voltage lamps are generally more vulnerable to shock and vibration troubles.
For a given lamp size, as the voltage of the filament is increased, filament wire length is made longer and filament wire diameter is made thinner. As a result, their filaments have more grain interfaces that can act as possible fracture points. Also, with those dimensional parameters being what they are, higher voltage lamps tend to have a lower mechanical resonant frequency and even some proclivity to multiple resonances which can result in uncontrolled vibrations and a tendency for short circuits to occur between filament segments.
Because higher voltage lamps tend to be more fragile and more prone to failure, a higher voltage lamp should usually be avoided where a lower voltage lamp can serve. Lower voltage lamps tend to offer higher reliability.
Continue reading on EE Times's sister site, EDN.