Broadband Demand Hits the High Seas
Chris Murphy, InformationWeek

11/24/2014 09:30 AM EST

0 comments
post a comment
Cruise ship operators Royal Caribbean and Carnival are exploring new ways to provide on-board Internet access, highlighting advances in remote connectivity.
If you think an ocean cruise is about getting away from it all and unplugging from your everyday, digitally driven life, it's time to update your thinking.
Think instead about playing Xbox in the cruise ship's game room with your friends back on land. Or watching a Netflix movie while sitting poolside. Or checking Facebook to keep up with your friends, or even better, posting photos of yourself on the ship's water slide. Guests would like all of those digital capabilities, spurring cruise ships to search for new ways to provide affordable high-speed Internet access.
"With the Millennial generation, if you can't provide that kind of connectivity, you could be out of the consideration set," says Bill Martin, CIO of Royal Caribbean Cruises Ltd.
But delivering that offshore connectivity has proved to be a daunting technical challenge. The standard cruise ship satellite-based service has been slow and pricey, billed per minute. Royal Caribbean is making a big bet on an emerging satellite technology that orbits more closely to Earth than conventional satellites, while the industry's largest cruise company, Carnival Corporation & plc, recently announced a "hybrid" approach using multiple access technologies and algorithms to switch among in-port WiFi, long-range WiFi, and satellites.
Royal Caribbean is rolling out Internet services via next-generation satellites operated by a company called O3b, whose founding mission is to provide Internet access to the "other 3 billion" people in the world who lack connectivity.
CIO Martin (who is a member of the InformationWeek editorial advisory board) says the O3b satellite system will let Royal Caribbean provide fiber-like Internet speeds to its ships in the middle of the ocean, replacing per-minute Internet pricing with an all-you-can-surf flat rate of $22 a day, based on a weekly package, similar to fancy hotel charges. Guests will be able to access most any apps they want, including streaming video. The service is available on Royal's newest ship, Quantum of the Seas, a 4,180-passenger vessel that began sailing last week and which the company is billing as a "smart ship" for all its on-board technology. The company's Allure of the Seas ship also offers the service, and it will be on Oasis of the Seas in December.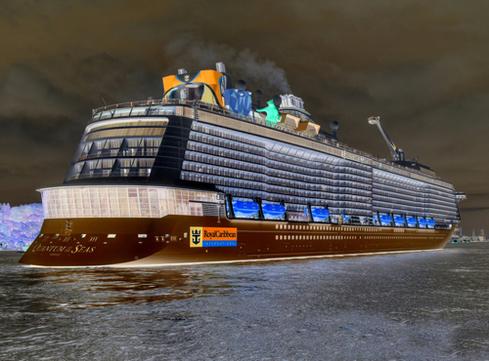 About three-and-a half-years ago, Royal Caribbean studied its onboard environment, and, Martin says, "Everything kept pointing back to, 'You need broadband access. You need high-speed access.' " So a team of communications engineers went to work on the problem, finding various ways to increase access speeds two-fold and even four-fold. Martin got to be the bad guy: "It just wasn't enough," he says. "It wasn't even close."
Then Royal Caribbean and O3b connected. O3b launched its first four satellites in 2013, but a component problem showed up on one of them. In order to make sure the next four satellites didn't have the same problem, O3b delayed the second launch from fall 2013 until July of this year. All eight satellites are now orbiting and working, at about 5,000 miles above the Earth's surface, as opposed to 22,000 miles or more for conventional satellites. O3b plans to launch a third set of four on Dec. 18.
Early tests on Royal Caribbean's Allure of the Seas ship delivered speeds of over 500 Mbit/s, and, even more important, 120- to 130-millisecond response times, meaning that even apps such as Apple Facetime and Netflix work as well as, or better than, guests experience them at home. "That's really the game-changer, the latency," says Martin, because too much latency causes apps to freeze or look sluggish. Latency is tied to the distance data travels and the speed of light. With O3b's satellites one-fourth the distance from Earth of conventional ones, transmissions can make faster round trips.
The other 39 ships in Royal Caribbean's fleet rely on conventional satellite Internet access. Two years ago, Royal Caribbean cut a deal with a new satellite access provider, Harris CapRock, to get more capacity so it at least could offer daily and weekly unlimited access packages. But they cost more than access on the O3b-enabled ships and don't have the same performance. The company is working on ways to share its O3b capacity across more of its ships and expects to be able to do that in about a year.
Martin thinks having broadband out at sea will not only attract guests who might otherwise not consider a cruise, but it will also generate priceless exposure for Royal Caribbean as guests post photos to social sites while on board. "Immediately, family and friends are drawn into the experience that you're having on board the ship," Martin says. "It's an incredible advertising opportunity for us."
New breed of satellites
The company behind the new breed of medium-Earth-orbit satellites, O3b, was founded in 2007 by Greg Wyler, who was a telecom entrepreneur in Rwanda, at the time frustrated with the lack of fiber-caliber connectivity in Africa. Rwanda got connected via ocean-floor cable long before O3b could deliver.