Connected Car Takes Center Stage at CTIA
Steve Bell, Founder & President, KeySo Global

10/1/2014 07:30 AM EDT

0 comments
post a comment
Day two at this year's CTIA conference, Super Mobility Week, saw keynotes focused on the connected car. Ralph de la Vega, president and CEO of AT&T Mobile and Business Solutions, and Glenn Lurie, CEO of AT&T Mobility, were waxing lyrical about the fact that the connected car will change our lives, quoting Strategy Analytics' forecast that 32% of cars worldwide will be embedded with cellular modems by 2017, and that figure will be as high as 60% in the US. This will be the world of the "smartphone on four wheels" where connectivity with the cloud will enhance safety and security.
De la Vega and Lurie discussed with Arun Bhikshesvaran, CMO of Ericsson, a research survey that had been carried out at AT&T's Drive Studio in Atlanta in cooperation with Ericsson. The survey documents the significant influence that telematics features and services are expected to have on automotive sales.
The survey found that half of drivers worldwide would switch brands in order to obtain a connected car service, and that 72% would delay a purchase by one year to obtain a car with connected services from their preferred brand. After learning about connected car services, two-thirds of the US drivers surveyed considered them an important feature in their next vehicle, and 67% of drivers said they would probably or definitely buy connectivity or WiFi as a service, if available, in their next car.
The connected services that scored highest in terms of consumer awareness, are roadside assistance, navigation and real-time traffic alerts, remote starting, streaming music, usage-based insurance tracking, and WiFi hotspots in the vehicle.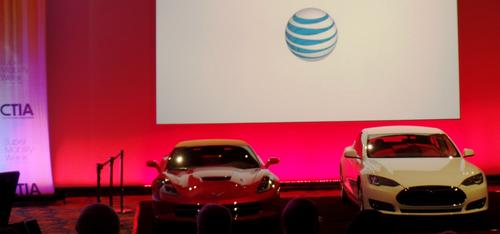 Lurie said LTE in the car will mobilize people's lives. In a discussion with Mary Chan, global connected consumer president at GM, they said that LTE can now be found across all GM brands, and 33 models in the US come equipped with it. All vehicles are being delivered with a free three-month trial, and 90% of purchasers are accepting this trial period. GM and other manufacturers have learned that they have to provide simplicity of user interface, as well as making it hassle free and cost effective for consumers to add the service to their data plans. GM and AT&T, encouraged by their successes in the US, are partnering to bring the service to vehicles in selected European countries.