Programmable Devices are Key to Unlocking Potential of Virtualized Wireless Infrastructure
Paul Dillien, Principal, High Tech Marketing

12/1/2015 03:50 PM EST

0 comments
post a comment
Wireless networks are moving towards cloud radio access networks (C-RANs) featuring wider use of remote radio heads and small cells organized using SON techniques.
I've been reading a lot about virtualized networks recently, and I've noticed that the references are nearly always to wired networking, not wireless; a deeper investigation revealed the reason.
Virtualized networks exploit open source software with a combination of software defined networks (SDN) and network function virtualization (NFV). The SDN/NFV software is then matched with white box or bare metal switches to create the network. This hardware uses standardized commodity processors and is (often) shipped without proprietary software.
The reason networking giants like AT&T are interested in this concept is not too difficult to understand. Operators want to avoid "vendor lock-in" and reduce their capital expenditure and their operational costs; also, they ideally want to be more responsive in the ever-changing network environments. Open source software and white box hardware promise to deliver on all three counts.
So, what's the difference between white boxes for wired and wireless infrastructure?
Wireless white box hardware
Let's start with the fact that, for a number of reasons, the hardware for wireless systems is more complex. The primary problem is that cellular frequency allocations vary around the world, so a white box vendor would need to cater for this variation. Even within a single country there are many diverse frequencies used, say 800 MHz, 1800 MHz, and 2600 MHz, with different channel access and data transmission technologies, such as TDMA, CDMA, and OFDMA, as well as TDD and FDD systems. In all cases, the key to designing a global white box solution is to incorporate the maximum amount of programmability into the hardware.
Programmable hardware
Programmable devices offer a highly flexible solution for white boxes. The baseband requirement can be met by a range of Field-Programmable Gate Arrays (FPGA) from vendors such as Altera and Xilinx. As an example, Altera Cyclone V FPGAs come in a range of different sizes and include devices that boast both ARM processors and programmable logic on a single chip; these are termed SoC FPGAs. Tasks such as selecting the channel access and transmission standard can be programmed using high-level abstraction tools such as OpenCL to efficiently create C code for the ARM. The processor can run the open APIs that interface with the open source SDN software.
Programmable RF is more problematical, but recently introduced Field-Programmable Radio Frequency (FPRF) devices from Lime Microsystems and software-defined radio (SDR) solutions from ADI provide the answer. These highly integrated chips contain complete transceivers that are programmable on the fly across all the cellular frequencies. Characteristics like the bandwidth and gain are also fully programmable, making FPRFs amazingly flexible wireless solutions.
Open Source Software
Fortunately, Lime Microsystems is heavily committed to open sourcing and provides full visibility into how engineers can program its silicon. Open source hardware allows the freedom to study, share, and modify designs, and to sell products that are built using those designs. This openness permits engineers to innovate with FPRF devices in a way similar to how designers have used FPGAs. The flexibility of FPGAs has led to them being used in numerous applications and spawned an industry segment worth $4B. This is far ahead of the nascent FPRF market, of course, but FPRFs have already been used in infrastructure projects to bring cellular connectivity to remote areas, as well as to build small cells and even enhancing PCs to act as cellular base stations.
White box wireless transceivers can be included into infrastructure in what is termed a self-organizing network (SON), and they can be physically located wherever adequate power and backhaul services are available. The concept of a SON is that the equipment analyzes the wireless environment and decides what frequencies and power levels to use so that it does not cause interference.
Towards C-RAN
Wireless networks are moving towards cloud radio access networks (C-RANs), with wider use of remote radio heads and small cells organized using SON techniques. The load can be dynamically reconfigured to give optimum user experience through carrier aggregation and Coordinated Multipoint (CoMP) whereby the system sends and receives data to and from a single user using several base stations. This is particularly important when the user is at the edge of the cells as it enhances the experience and reduces the number of dropped calls. Furthermore, it can also offload traffic from a busy base station and use less-loaded neighboring cells.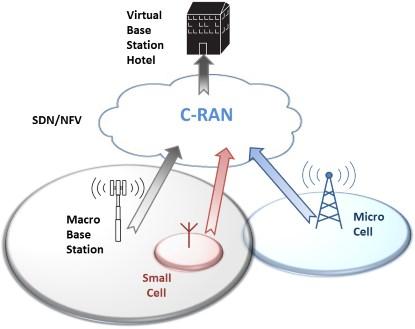 FPRF devices provide the possibility for ODMs and others to enter the wireless infrastructure market. Wireless carriers are always looking for ways to reduce costs and to enhance operational efficiency and replace manual controls with automation. As carriers develop their strategy of deploying SND/NFV on a step-by-step basis, they have the opportunity to introduce white box equipment into their network using the open source code as the interface between the programmable FPRF and FPGA hardware and middle-ware.
Click here for a more detailed discussion on this topic.
Related posts: