Air Conditioner Falls From Window, Still Works
Blog

10/1/2014 00:02 AM EDT

0 comments
post a comment
It's autumn in New England. The leaves are turning to red, orange, and gold, my roses are in their second bloom, and it's time to remove the air conditioner from the window. On September 22, I opened the window to remove the air conditioner as I've done many times before. For the first time, the air conditioner fell out.
Too often, we focus on the latest and greatest processor, mobile device, or other "cool" product. But sometimes, simple things such as strain relief take on significance and save the day, especially for a "cool" product such as an air conditioner.
The air conditioner never hit the ground. Why? Because with my lightning reflexes, I grabbed the power cord, stopping the fall. Yes, the power cord's strain relief made the difference. There was a thud as the unit hit the side of the house, but it didn't hit the first-floor window directly below.
So here I am with my arm hanging out the second-floor window, holding onto the line cord as the A/C unit dangles. But even with two hands, I had difficulty pulling the unit up. I called for my wife, who came and helped me pull on the cord. The A/C unit came up and I pulled it in.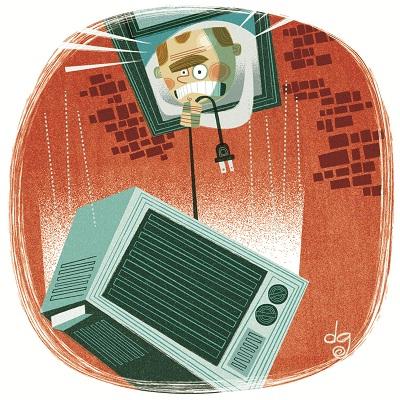 There was surprisingly little damage. What's really impressive is that the strain relief of the line cord could hold the weight of the unit and survive the force on it. So, who is the manufacturer of this miraculous air conditioner, anyway? The brand name is Liberty, made in China. Here's a photo of the front-panel controls.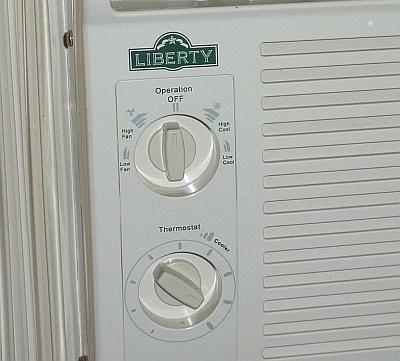 Here's the side-panel label.