Mission Critical in Auto SoC: Interconnect IP
Kurt Shuler, VP Marketing, Arteris

10/22/2016 08:00 AM EDT

0 comments
post a comment
The average number of IP cores integrated into automotive SoCs is growing from about 20 today to more than 100 within the next five to ten years.
Today, the automobile industry is a key driver for technology innovation much like the mobile industry propelled growth in earlier part of the new millennium.
While the market for electronics in cars is relatively small in comparison to the mobile industry today, the growth rate is higher, which makes it all the more compelling for the next generation of SoC designs.

Much like the mobile industry before it, the growth in capabilities and features for automotive electronic systems is driving the transition from microcontrollers to ever more sophisticated microprocessors in ever more complex SoCs.
Application areas are expanding from engine control units into Advanced Driver Assistance Systems (ADAS), self-driving systems with over-the-air updating capabilities, active safety systems, infotainment systems and more.

In particular, ADAS are driving up the semiconductor bill-of-materials (BOM) in automobiles due to the requirements for advanced processing and sensing. Figure 1 below provides a breakdown for the growing semiconductor revenue as automation increases in cars.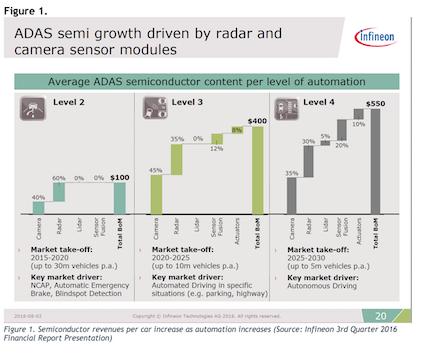 Most of the new semiconductor content due to ADAS adoption will be for new processing SoCs which will implement near real time algorithms.
We are now seeing a transition to novel machine learning implementations for sensor fusion and image recognition. Innovation here is expected to continue for years into the future. The chart below (Figure 3) predicts that 37 percent of the semiconductor revenue per car will be for processors.
In short, as the amount of semiconductor content in automobiles increases, the semiconductors will become more complex and more valuable.
This is a great thing for the industry and it will provide many decades for innovation and growth. For the foreseeable future, mobility will be the larger SoC market but automotive is now and will continue to be the fastest growing.

We are also seeing this trend in semiconductor IP, which is the set of functional "ingredients" that make up a chip.
Back when mobility was king, Arteris had just one SoC design customer in the automotive space. Today, that number has grown to nine.
That's because the need for more sophisticated devices calls for a more advanced methodology to stitch together all the intellectual property, to enhance on-chip communications and provide designers with greater control in power management and silicon-die area optimization.

Chip complexity is driving changes in automotive SoC design methodologies: The average number of IP cores integrated into automotive SoCs is growing from about 20 today to more than 100 within the next five to ten years.
SoCs are now assembled out of internally-developed and commercial IP blocks, and one of the important differentiators is how that IP is assembled together.
While the majority of the IP blocks are proven, established, and not very configurable, it is the interconnect IP that is revised many times during the course of a project.

Therefore, it is mission critical for SoC design teams to have the most efficient, highest performance, and cost effective interconnect IP in their designs.
During the time when mobility saw its fastest growth, the design teams that were the most innovative were able to gain market share by introducing game-changing features before anyone else. Those companies also usually had the most configurable interconnect IP.

The importance of SoC interconnect technology is growing with each generation of new system-on- chip devices. This is yet another important driver for interconnect IP.

The self-driving car is an immensely complex challenge to overcome and the industry has to evolve at a rapid pace.
Automated highway driving is reasonably close to wide scale adoption. Increased investments in the electronics that will underpin the infrastructure is another key growth driver.

The automation-assisted vehicle are mission critical systems that must work as well as we can possibly make them.
IP companies have to deliver functionally safe cores that support safety objectives.
One important technology effort is the resilient interconnect IP that is tolerant of errors due to environmental radiation and manufacturing flaws.
This requires a significant investment by semiconductor IP companies, in order to drive customer adoption at a profitable, sustaining rate.

There are many opportunities for innovation in this segment. Today, we are working on a fault-reporting interconnect but ultimately, we need to get to a truly fault tolerant interconnect that adapts in the field to changing conditions.

-- The author Kurt Shuler is vice president of marketing at Arteris. He has extensive IP, semiconductor, and software marketing experience in the mobile, consumer and enterprise segments working for Intel and Texas Instruments. He is a member of the U.S. Technical Advisory Group (TAG) to the ISO 26262/TC22/SC3/WG16 working group, helping create safety standards for semiconductors and semiconductor IP. Prior to his entry into technology, he served in the U.S. Air Force Special Operations Forces.