Knobs and Buttons Are Toast, Long Live the Pinch
Martin Rowe, Senior Technical Editor

10/19/2014 00:05 AM EDT

7 comments
post a comment
When Oscium introduced its iOS-based oscilloscope in 2011, I believed then that engineers would embrace the smartphone/tablet interface for controlling instruments. I still do. The march in that direction continues with the announcement of the IVy Android app from Keithley Instruments.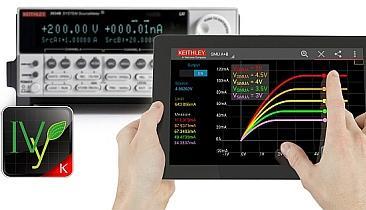 Knobs and buttons are slowly on their way out. Get used to it. Yes, oscilloscope companies tried using screen interfaces and were told that engineers want their knobs and buttons, especially on oscilloscopes. Engineers claimed that nothing could replace the look and feel of an analog oscilloscope user interface. As a result, every bench oscilloscope I've seen has the traditional knobs and buttons. But that trial came long before everyone had a smartphone or tablet, and the pinching/expanding motion that we use every day didn't exist then.
The motion we use on our phones and tablets will replace knobs and buttons, but it will take perhaps another 10 years for that to occur. Why? Because there are still too many old-time engineers in the workforce who were born and raised on analog oscilloscopes. But as the old-timers retire, younger engineers will expect every user interface to function like a phone or tablet. Don't believe me? Just wait. The only reason I can think of why this won't happen is because the current phone/tablet interface might not be around in another 10 years, but knobs and buttons just might be. In that case, I'm sure you'll all say, "I told you so. Nothing will replace knobs and buttons."
Using an Android/iOS device as a user interface will become the standard, and it's not just for "toy" measurement instruments, as many are today. As I reported several months ago, even some oscilloscopes that still bear a mechanical interface now have the ability to use fingers for more than pointing.
It's not just for commercial products, either. Some engineers have designed such user interfaces into their own projects.
The following pages provide a look at other test instruments that use iOS or Android devices or similar interfaces.