Qualcomm Mobilizes in Embedded Processors
Kevin Krewell, Principal Analyst, Tirias Research

9/28/2016 10:50 AM EDT

0 comments
post a comment
While Qualcomm may be late to the embedded market, it brings with it some interesting attributes that will appeal to a number of designers.
The standard bearer for Qualcomm in embedded has been the Snapdragon 410 which already has a development board, the Dragonboard 410c, and is supported by distributor Arrow Electronics. What changed in this latest announcement is that Qualcomm has extended the life time commitment from five years to 10 years for the new Snapdragon 410e.
In addition to the 410e, the company announced a second, higher performance Snapdragon 600e processor that will also be sustained for a 10 year life span. Both the 410e and the 600e were released in 2015, which means that Qualcomm is committed to support these chips to the year 2025.
The Snapdragon 410E processor offers a 1.2GHz quad-core ARM Cortex-A53 CPU complex. The Snapdragon 600e features a 1.5GHz quad-core Qualcomm Krait 300 CPU complex.
It should be noted that the Krait 300 CPUs are 32-bit ARMv7 designs and do not support the newer ARMv8 instruction set, but for most embedded designs, that should not be an issue. Both parts are made in TSMC's 28nm process.
These SoCs include Wi-Fi and GPS making them highly integrated solutions for connectivity. They also include DSPs and GPUs that can support HD level graphics and video. Because these chips were originally designed for mobile applications, they have excellent power efficiency and very low standby power. Neither chip, though, offers a cellular modem.
While the Snapdragon processors are highly integrated, they still require a number of support chips such as RF and power management. Qualcomm will also support these parts necessary for a complete design kit for that same 10-year lifespan.
One challenge for Qualcomm is the company is used to supporting just a few customers that ship millions of units. The embedded market is composed of thousands of companies that take thousands of processors, creating logistics issues Qualcomm is not set up to support. That's where a distribution partner such as Arrow comes in. (Editor's note: Arrow Electronics is the parent company of Aspencore, the media company that owns EE Times.)
Qualcomm will support Linux, Android, and in the case of the 410e, Windows 10 operating systems. The Snapdragon 600e also has support for Robot OS (ROS). The target markets for these processors include digital signage, set-top-boxes, medical imaging, point of sale systems, industrial robotics, and other Internet of Things (IoT) designs.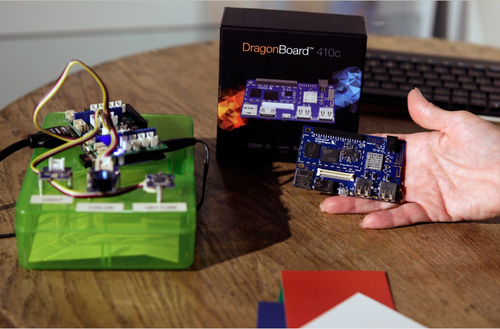 People may be skeptical of Qualcomm's embedded processor commitment because the company appears to be new to this area. But, in fact, the company has had a long history of supporting its modem technology in automotive, which also has long-life requirements. Qualcomm will add more processors to the embedded line in the future.
The prospects for Qualcomm look good. Its first two parts have good overall performance and feature sets and have already been designed into a number of products. With Arrow's help, we should see more Qualcomm silicon in new drones, toys, portable medical devices, AR and VR headsets, and other innovative designs.

—Kevin Krewell is an analyst who writes about the semiconductor industry for Trias Research.