Stephen Hawking: How He Speaks & Spells
R. Colin Johnson, Technology Editor, EE Times

11/26/2014 11:50 AM EST

0 comments
post a comment
The technology that helped resurrect the life of Stephen Hawking after the physicist was stricken by Lou Gehrig's disease.
Stephen Hawking has an intimate relationship with technology. Without it, the famous physicist is trapped in his own body -- his mind sharp but his body barely able to communicate with others.
I saw an advance preview of the new movie about his life in theaters now, The Theory of Everything. I wondered how technology helped a brilliant, determined soul to overcome the obstacles of one of the world's most debilitating diseases -- Lou Gehrig's disease, called amyotrophic lateral sclerosis (ALS) by doctors in the US and motor neurone disease (MND) by doctors in Hawking's native England.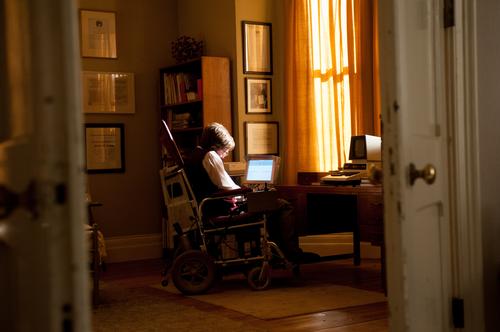 When he was diagnosed, Hawking had not even finished his doctorate in physics. He was given two years to live. However, with the help of technology from the self-proclaimed "rocket scientist" Walt Waltosz, who personally wrote the software that allowed him to get his life back, Hawking was able not only to speak to others but also to write the book A Brief History of Time, which broke all sales records by staying on the British Sunday Times bestseller list for 237 weeks (more than four-and-a-half years). He is still using the same software to serve as director of research at the University of Cambridge Centre for Theoretical Cosmology.
Waltosz's motivation was not to help Hawking, but to give a voice to his mother-in-law, who was similarly stricken by Lou Gehrig's disease in the 1980s.
"I was called a 'rocket scientist' by my friends, not just because I had a degree in aerospace engineering, but because my day job was to build rockets," Waltosz told EE Times. "To help my wife's mother, I bought a Radio Shack TRS-80 and programmed it in the Basic language that came with it to create the program I called Word+. Eventually, I founded Words+ Inc. in Sunnyvale, California, where I served as CEO. It was always a small company, and I was always hands on with the software that we continually improved."
For 30 years, Waltosz sold the Word+ program to help thousands with Lou Gehrig's and similar maladies affecting motor functions. When the IBM PC came out, he immediately switched to the more powerful platform. He then switched to Apple when it first came out and then finally to Windows laptops running visual Basic, which Waltosz claims allowed the firm to develop its most valuable software. He sold Word+ in 2011. After changing hands, it now belongs to Gaylon Ponder, president and CEO of Word+ Inc. Waltosz moved on to found Simulation Plus Inc., where he serves as CEO to this day.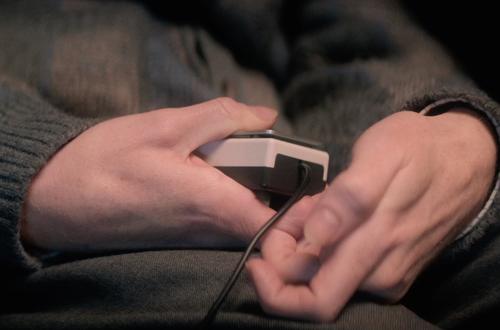 By the time he met Hawking in 1985, Waltosz had made many improvements on the original prototype. The hardware was fitted to the wheelchair by David Mason in Cambridge, England, who subsequently became Word+'s dealer in the UK. From the beginning, the input method was a special easy-to-activate switch. By clicking that single switch, Hawking could communicate. For several years, he was running two computers at once, clicking to one with his right hand and to the other one with his left. He would work on a manuscript on one computer and use the other to communicate with others when they came into the room. "We eventually added a speaking window so that he could switch from working to speaking without needing two computers," Waltosz said.
The clicking he used was not a code, like Morse Code, but a coordinated scanning process on the screen. The software would scan rows of letters and words across the screen -- raster style -- until he clicked the switch. The software would then start scanning that single row. When it was over the letter or word he wanted, he clicked again, depositing that word or character to the bottom on the screen in a giant font. The process repeated until a whole sentence was formed -- at which time a voice synthesizer would pronounce the sentence.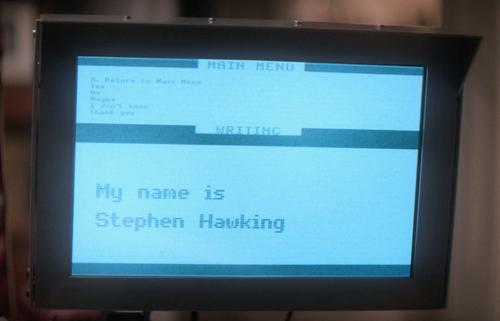 "Stephen became one of the fastest scanners I ever knew," Waltosz said. "There were only three people I knew that could scan as fast as Hawking: a fellow up in North Dakota and me, and I only could because I spent thousands of hours pretending to be a patient while working on the software."
Hawking could "type" about 20 words per minute -- about one word every three seconds -- which was fine for typing manuscripts but too slow for real-time conversations. The voice synthesizer would kick in only when a complete sentence had been formed.
Several versions of the software followed Word+ that used the top half of the screen for letters, numbers, and a space and the bottom half for frequently used words. When you selected a letter at the top of the screen, that would change the bottom of the screen to words that started with that letter.
E Z Keys -- the successor -- would just bring up a window with six words that started with that letter. If your word was not there, you would start to spell it, with the window changing with each added letter until you saw the word you wanted and clicked it.