Hackers Go Off-Grid for Power
Powerful ideas for development
John Walko, Technology Writer, EE Times

12/19/2014 08:00 AM EST

0 comments
post a comment
Hackathon produces designs that could be assembled by villagers with limited resources.
It's just amazing what like-minded engineers who have never previously met each other can come up with when working together to win a design competition. It does of course help that the target was to devise a workable, affordable and simple off-grid power generation source for domestic use by poverty-stricken communities around the world.
Earlier this month one of the UK's foremost distributors of electronic components (and much else) RS Components, together with its US affiliate Allied Electronics and Practical Action, an international charity focusing on the use of technology to challenge poverty in developing countries, organized the so-called Power Hack.
The rapid-prototyping hackathon was held over two days at Google's offices in London. The three participating teams grouped electronic and electrical engineers with different backgrounds from companies such as Schneider Electric, Elektor, Bare Conductive, as well as tech industry leaders such as 3D printing pioneer Adrian Bowyer, founder of the open source RepRap project.
This was RS Components/Allied Electronics' second attempt at such an event. "The first one, held last year, was also a useful challenge, but came up with novel designs that were all over the place. This time, we brought in Practical Action and gave the hackathon a much more focused target," Mike Brojak, Applications Manager at RS Components and one of the judges, told EE Times. The other judge was Neil Noble, technical adviser at Practical Action, who laid down some ground rules about the type of systems the judges were looking for simple, practical, cheap, easy to maintain and culturally appropriate for use in remote areas. The designs had to be such that they could be assembled by villagers with limited resources. Noble and a colleague from Practical Action, with years of relevant experience in the field, also advised on the types of materials and devices they could reasonably access.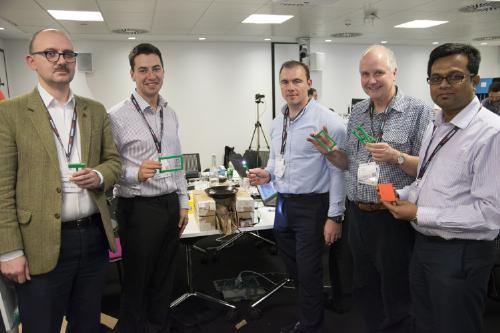 The one criteria shared by the design engineers was that they were all already active in the company's DesignSpark community. A couple of them had sparse experience of using the rapid prototyping tools provided — Design Spark Mechanical, DesignSpark PCB and the Toolbox App. "The companies nominated them as they felt it would provide excellent training," said Brojak.
He added the set of tools also included the then not yet released Version 2.0 of the DesignSpark Mechanical 3D design software, with a simplified user interface that includes built-in help text and Quick Guide tutorials, that was launched December 17th.
Combining the skills of (see picture) Andrew Back (AB Open); Mario Caruso (QinetiQ) Daniel Tinsley (Schneider Electric ); Adrian Bowyer (RepRepPro); and Subhash Mungarwadi (TE Connectivity) came up with the Seebrick, ;a copper-iron thermocouple that could be embedded into the clay bricks typically used to insulate cooking stoves. The brick — which uses the well-known Seebeck effect to generate electric power — could also be built into home walls and use solar energy amplified by reflectors.
The team calculated that the bricks could generate 2.5W, and that 6 side-by-side would be sufficient for 2 hours of cooking, and that three rooms would be able to be illuminated with LEDs for a night. And it will of course be a big help that the concept would cleverly fit into an existing working environment. After all, many stoves in remote villages already rely on clay brick insulation.
The idea would seem to be to have 3D printers available in local centres for making the key parts, and to have some pre-fabricated, but not pre-wound ones made for construction in villages.
"The project met all the criteria regarding local manufacturability and minimal use of materials that would need to be imported from abroad. The next step will be to prove the concept and gather interest from others to make the idea a commercial reality," said Borjak. Tests will need to be done with existing clay bricks and stoves, but the team believes its estimates of power generation capability will prove to be realizable in situ.
Another group achieved stunning improvements on IBM's recent work to re-use lithium ion batteries. The team opted for a simplified version in which the 3D printer was deployed to create an easy method of packaging cells, coupled with an innovative way of connecting the cells. Old razor blades would be inserted into the ends of the battery packs and these would cut through the plastic insulation, connecting the cells as they are pushed down on the lid. "An ingenious idea and one worthy of first prize. Unfortunately, this solved a problem related to energy storage rather than generation," said Borjak.
The third team suggested recycling common waste materials such as aluminium cans and plastic bottles into small waterwheels, which would be connected to a micro-generator by a 3D printed hub component.
The design files for all three projects are being made available on the DesignSpark site by the company as open source so that any company interested could move them on to the next stage. RS and Practical Action believe they could all be made commercially viable, and, having witnessed the enthusiasm, energy and creativity of the engineers involved, are already making plans for the next hackathon.
A range of recorded content from The Power Hack has also been made available on the Power Hack Youtube Channel.