Peek Into BMW's Ultimate Driving Museum
Junko Yoshida, Chief International Correspondent

9/30/2014 01:30 PM EDT

5 comments
post a comment
MUNICH, Germany — BMW Welt (BMW "World") and the BMW Museum, located Munich's north side, has reportedly become a popular destination for tourists visiting Bavaria, almost rivaling King Ludwig's 19th-century Neuschwanstein Castle.
The architecture of the BMW Welt building, described by a German newspaper as a "Cathedral of the 21st Century," is indeed futuristic. On display are the latest products, technology, and legacy of the brand, complete with what the company calls the ultimate "customer experience." It's the sort of showcase every leading brand in the world would kill to replicate, if only they could afford it.
The multi-story building features models of BMW, Mini, and Rolls Royce, guided tours, kids' programs, shops and restaurants. At the center of the building, there is an elevated stage where guest BMW purchasers get the royal treatment from BMW, receiving an orientation tutorial, picking up their new car, and drive it home.
I spent a few hours here last week, and I was struck by the sheer beauty of the automobile designs and mechanisms, if not by the pleasure of driving. (One cannot buy a car or drive a car here.)
Connected cars are coming. Advanced Driving Assistance Systems (ADAS) are already featured in many new cars. "Automation" in driving -- if not complete self-driving -- is inevitable. I couldn't help but wonder, though, how such an autonomous driving future -- 10, 20 years from now -- would eventually change (kill or enhance?) today's emotional and tactile connections between a driving machine and a human being. I mean, is it still the "ultimate driving machine" if you don't drive it?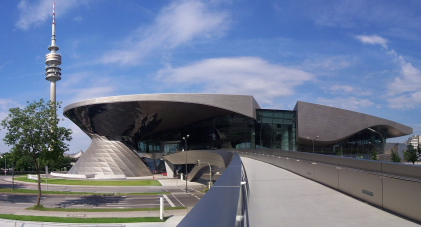 Eighty to 120 cars are handed over to BMW customers at the BMW World per day. The walkway, shown above, connects the BMW World and the BMW Museum. Both the BMW World and the BMW Museum are right next to BMW headquarters and a BMW plant -- at the original birthplace of Bayerische Motoren Werke AG. The plant in Munich, one of 20 BMW production locations throughout the world, still produces 1,000 cars a day and 2,200 engines.