EE Times Week-in-Review Online Chat: The Demise of Moore's Law
Max Maxfield, Designline Editor

8/28/2013 04:15 PM EDT

10 comments
post a comment
The EE Times Week-in-Review is a live online chat about what's been happening in electronics and engineering and what you think about it all, from hard news to the weird and wonderful.
This week's chat will take place on Friday, August 30, 2013, commencing at 1:00 p.m. ET (10:00 a.m. PT). One topic that's certainly aroused a lot of interest this week is Rick Merritt's article: Moore's Law Dead by 2022, Expert Says.
I donít know about you, but I've been hearing this for 20 years or more (and we're still here). Now is your chance to join the debate. All you have to do is click here at the appropriate time to join our chat and make your opinions known. If you aren't already a member of EE Times, now would be a perfect time to register.
In the meantime, can you suggest an EE Times-related caption for the following image? If so, please post your suggestions as comments below.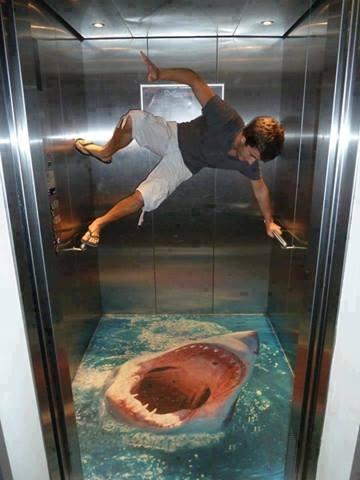 Now, that's an elevator ride I wouldn't like to take. I have to say that I love this sort of photo-realistic 3D art. I only wish I could do it myself. I keep seeing the most amazing 3D chalk street-art images on the Internet. Have you seen any of these? If so, please post a link to your favorite image and/or site.