Learning Sign Language to Talk to Your Cadillac
Junko Yoshida, Chief International Correspondent

9/16/2013 12:00 PM EDT

14 comments
post a comment
MADISON, Wis. — Nailing down the perfect human/machine interface (HMI) is an eternal quandary for every serious consumer technology developer, whether carmaker, TV manufacturer, mobile handset company... the list goes on.
When I stumbled on a recent press release by IHS, whose headline read "Sales of Automotive Proximity and Gesture Recognition Systems Shift into High Gear," I almost gasped.
The market research firm predicts that sales of automotive human machine interface (HMI) proximity and gesture recognition systems will rise by a factor of 50 during the next decade.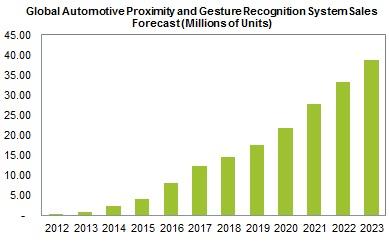 Really? Carmakers are plunging into gesture control?
My gut reaction was: How on earth, in a car, could gestures and proximity be better than turning knobs or using touchscreens? Call me old fashioned, but wouldn't drivers like to have that tactile assuredness of knobs, buttons, and physical contact?
I got in touch with Mark Boyadjis, senior analyst and manager, automotive infotainment, for IHS Automotive. Boyadjis is the author of a new IHS Automotive report entitled "Emerging Technologies: New Human-Machine Interface Trends."
Once we got together on the phone, Boyadjis corrected me: "No, I didn't say that gestures and proximity are 'better.' I said that gestures and proximity are 'highly valued' user interfaces."
Highly valued? What does he mean by that?
Boyadjis subscribes to the idea that when it comes to user interfaces, the key is choices, not a single winning HMI. Jargoning away about "multi-modal user interfaces," Boyadjis explained, "Some people prefer voice recognition over hard keys, while others might hate voice. Different people in different cultures prefer different user interfaces."
That does ring true.
Setting Italian drivers aside, it's not hard to picture how expressive a driver's gesture could be -- not only to other drivers on the road, but also even to an infotainment system inside the car. Conceivably, gestures could carry more information.
Cost, cost, cost
But the real reason for growth in proximity and gesture recognition systems in cars has more to do with the cost and the ease of implementation of proximity sensors. Boyadjis acknowledged that much of "the systems rise by a factor of 50 during the next decade" -- predicted by IHS -- is not so much driven by gesture recognition systems, but by proximity sensors. IHS forecasts sales of 38.73 million units in proximity and gesture recognition systems in 2023, and 90 percent of that growth is concentrated in proximity-based systems, according to the analyst.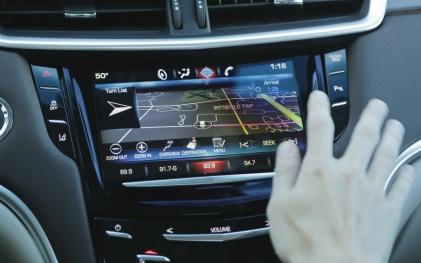 Boyadjis further explained that there are three categories of proximity systems: a) basic proximity sensing (i.e. used in the Cadillac User Experience, or CUE); b) advanced proximity sensors that recognize the presence of a whole hand; c) high-resolution proximity sensors that require stereoscopic cameras that recognize the difference between one and two fingers.
Proximity sensing uses smaller, less expensive proximity sensors, typically infrared technology, to detect the user's hand or another object approaching the display or control knob. "This technology may or may not understand a gesture but rather the presence of the hand or object in proximity. Proximity sensing can be used to bring up menus on a car's display with frequently used functions, which disappear when not in use," according to Boyadjis.
Regardless of different levels of proximity, an infrared, technology-based proximity sensor is a cheap component. For automakers, it's easy to add the sensor and integrate it into current automotive platforms, the analyst explained.
Of course, when it comes to high resolution gesture recognition systems, things get more complicated. "You need to factor in false positive issues, and they need to be intelligently designed," said Boyadjis. Gesture recognition systems will be most likely to be deployed for luxury cars, and even at that, a gesture reader can't be the only HMI available in the car, he added.
As Boyadjis pointed out, "No one -- I mean no one -- has yet perfected an HMI in cars."