China Drives Upticks in Infrastructure
Dell'Oro Group

9/18/2013 07:40 PM EDT

2 comments
post a comment
Revenues in the optical packet platform market -- which are comprised of optical packet transport, switch, and core switch segments -- grew 42 percent year-over-year, compared to an average 20 percent growth over the prior six quarters (see below).
This growth, which is expected to contribute to a greater-than $5 billion market in 2013, was attributable to several factors. An increase in 100 Gbit/s wavelength demand drove growth in optical packet transport. LTE deployments in China drove demand for optical packet switches. Finally, increased adoption of standalone OTN switches increased demand for optical packet core switches.
Each optical packet segment has its own set of leading vendors. The optical packet transport segment was led by both Huawei and Ciena, as these two leaders combined had over half of the market. ZTE was the majority market share holder in the optical packet switch segment in the second quarter of 2013 while Ciena was the majority market share holder in the optical packet core switch segment.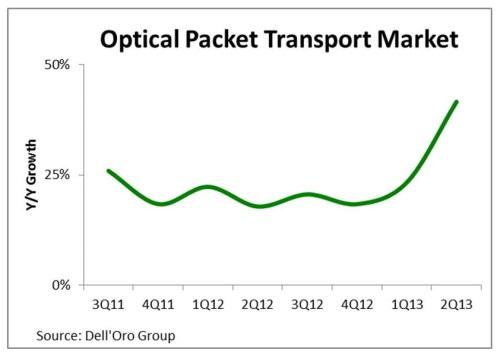 Meanwhile the market for service provider core routers had its first quarter of year-over-year growth after six consecutive quarters of decline. In the second quarter of 2013, growth came primarily from Huawei as its core router revenues into China, the company's home market, grew considerably.
Juniper and Alcatel-Lucent also added to the growth of the market with their T-series and 7950 products, respectively. Alcatel-Lucent, a relative newcomer to the core router market, had its first quarter of significant revenues in the second quarter of 2013.
ó Market researchers at Dell'Oro Group (Redwood City, Calif.) provide a quarterly update on communications systems markets.
For more on core routers and the access market, see the following page.