Golden Apple of China: iPhone 5s
Junko Yoshida, Chief International Correspondent

9/25/2013 08:15 AM EDT

24 comments
post a comment
PARIS -- This just in.
Since last Friday, Sept. 20, when Apple released its two new phones, early results show the more expensive iPhone 5s is by far outselling iPhone 5c globally, including China.
Yes, I know that the c in the model number iPhone 5c -- the cheaper version encased in a plastic shell -- does not stand for China. But the obvious goal was to crack the immense, but less affluent Chinese smartphone market. Nonetheless, Chinese consumers, thus far, like the 5s better than the 5c. The lopsided early results favoring the costlier 5s may just prove the point I made in my previous blog post: Never underestimate China, or prejudge the taste of the Chinese consumer.
The stats, put together by mobile market research company Localytics, are based on more than 20 million unique iPhones, which the firm broke down according to models, by examining the figures from US carriers and global activation.
In his blog post, Bernd Leger, vice president of marketing at Localytics, wrote:
In less than 3 days, the iPhone 5s and 5c combined now represent about 1.36% of the total numbers of all iPhones activated in the U.S. market across the top 4 carriers AT&T, Verizon Wireless, Sprint and T-Mobile. From the data we are seeing, 1.05% of all iPhones in the United States are now iPhone 5s and just 0.31% are iPhone 5c. That means that the iPhone 5s outshines the 5c by a factor of 3.4x, a clear indicator that the early adopters are favoring the high-end 5s compared to 5c.
Localytics is tracking the overall market adoption of the 5s and 5c by country.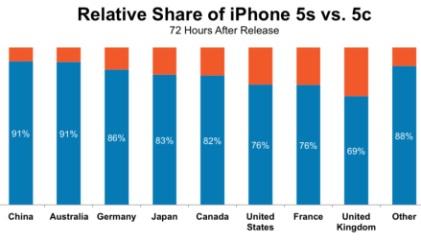 Quoting Localytics' figures, China's tech website, tech.sina.com, reported on Wednesday, Sept. 25: "In China, iPhone 5s accounted for 91 percent of the total sales of the two new iPhone sales."
In contrast, almost one third of the new iPhones activated in the UK are iPhone 5c, the cheaper version.
As one possible explanation for the dominance of the 5s in the Chinese market, the Chinese website suggested that this is "because only iPhone 5s comes with a gold version." It said that the gold-plated version is "very attractive, especially in the Asian market."
Who knew?
Of course, we're looking at the early figures -- literally within 72 hours since the two iPhone 5 models were released. I understand that it's probably premature to draw any meaningful conclusions. That said, an extended comparison will become interesting data points to track, as Apple scrambles for a bigger share of the Chinese smartphone market.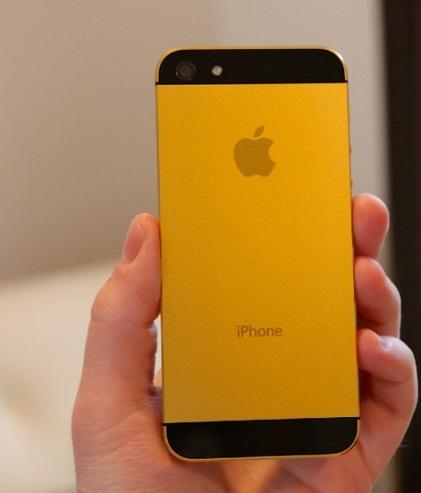 Related posts: