DDR4 Design Resources
Janine Love, Designline Editor

10/1/2013 02:02 PM EDT

2 comments
post a comment
With DDR4 poised to enter the server market, and after that the desktop, notebook, and consumer electronics markets, interest is running high in what it can do, how to test it, and how it differs from its predecessors.
In this round-up of resources, I've attempted to address these issues. Please use the comments section to add to this list, to ask questions about the technology, and to weigh in on when you think it will "hit" your application area.
Make DDR4 work for you
This 86-slide deck from DesignCon 2013 tutorial discusses design rules, electrical length, serpentine routing, mask margins, and testing for DDR4. It begins with a background on how DDR4 is different from its predecessors, particularly in regard to computer memory systems. Then, it includes an explanation of EDA simulation in the move from DDR3 to DDR4.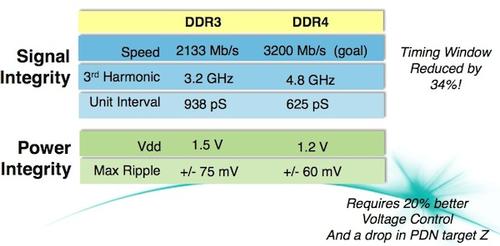 Other topics include:
Why DDR4 memory is a challenge compared to SERDES
DDR PCB layout design rules
DDR4 eye mask position and margins
Probe load impact on signals
Impact on AC Parametrics test
DDR4 testing strategy (DDR4 speeds require new AC timing parameters to be measured in a new way.)
Impact on protocol test
Debug and validation challenges
DDR4 interposers
You can download the entire set of 86 slides here (brief registration required).
DDR4 design articles:
DDR4 news: