Top Memory Articles of 2013
Janine Love, Designline Editor

11/4/2013 11:00 AM EST

7 comments
post a comment
Memory was hot in 2013, and continues to be a popular subject with EETimes readers. One of the major areas of interest this year is the advances in 3D memory, which is symptomatic of the general trend in memory topic readership on EETimes, which tends to center around, "What's Next?!" Hope you find this list helpful. (These are the top 10 articles on memory on EETimes during the last year, as voted by your page views.)
1. Moore's Law Dead by 2022, Expert Says
The ability to double transistors on a slice of silicon may end as early as 2020, said the director of an agency trying to find what's next.
2. London Calling: Where Will Apple Get Flash Memory Now?
Could Samsung, reportedly the ousted manufacturer of processors for Apple, be able to control the Silicon Valley company by putting it on a rationed supply of NAND flash memory? How should Apple respond to the danger?
3. Slideshow: A Brief History of Memory
Take a look back at some of the early technologies used for digital data storage -- and realize that it would probably take dozens of them to deliver the same capacity as that of your average car key.
4. Samsung Confirms 24 Layers in 3D NAND
Samsung has confirmed that the first 3D NAND flash memory has 24 layers. EE Times explores the implications.
5. Intel Outlines 3D NAND Transition
Intel and IM Flash Technologies executive says 2D NAND flash memory can scale to 10 nm, and 3D NAND needs to be manufactured with at least 32 layers to be economical.
6. Micron Tells Story of Building DRAM Cube
Engineers tell the story of the 4 Gbyte, 160 Gbyte/s Hybrid Memory Cube, a device sampling now that almost didn't see the light of day.
7. 3D NAND Production Starts at Samsung
3D memory era begins as Samsung starts mass production of a multilayered 128 Gbit NAND flash memory based on a charge-trap cell.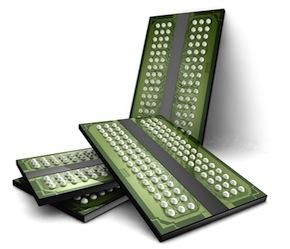 8. Why Migrate to DDR4?
The new memory standard offers a 30 percent improvement in power efficiency, along with better capacity, performance, and RAS (reliability, availability, serviceability).
9. Flash Memory 101: An Introduction to NAND Flash
As the price of NAND flash tumbles, it becomes a viable replacement for a hard drive. Here's an introduction to the technology. (Note: This article published in 2006 and remains one of the most popular on EETimes.)
10. Micron Ships Phase-Change Memory for Nokia Phones
Memory chip vendor Micron Technology Inc. has back-filled its range of 45 nm phase-change memory (PCM), which it says is shipping in "high volume" to Nokia, as reported by EE Times in November.