Silicon Valley Becomes U.S Ambassador
Rick Merritt, SiliconValley Bureau Chief

6/24/2016 08:00 PM EDT

0 comments
post a comment
President Obama suggested Silicon Valley is part of his foreign policy in a session at a startup event that included Facebook founder Mark Zuckerberg.
Silicon Valley's entrepreneurialism can be the heart of a positive foreign policy. U.S. President Barack Obama came to Stanford University today to speak about it both in a short talk and as moderator of a panel of young entrepreneurs from around the globe including Facebook founder Mark Zuckerberg.
"You represent the upside of a connected world, the optimism and hope and interconnectedness a [global economy] represents," Obama told attendees from 170 countries at the seventh Global Entrepreneurship Summit (GES).
Obama's visit came the day after the United Kingdom narrowly voted to leave the European Union.
"I think yesterday's vote speaks about the ongoing challenges of globalization," Obama said. "I believe we are better off in a world in which we are trading, networking and sharing ideas [but] that also means cultures are colliding and sometimes people get worried.
"You are the glue that leads to a more peaceful and prosperous world," he told the crowd of about 1,200, including 11 entrepreneurs from Cuba.
The administration helped launch GES with a Washington D.C. event in 2010. Since then summits have been held in Kenya, Malaysia, Morocco, Turkey and the UAE, gathering a total of 17,000 attendees. Next year's event will be held in India.
Obama held up Silicon Valley in brief remarks here.
"This is a place that celebrates our ability as humans to discover, build, reimagine and create new ways to connect with each other," he said. "Two guys in garage can start a company, and student projects become Yahoo and Google…those were really good student projects, my student projects weren't as good," he quipped.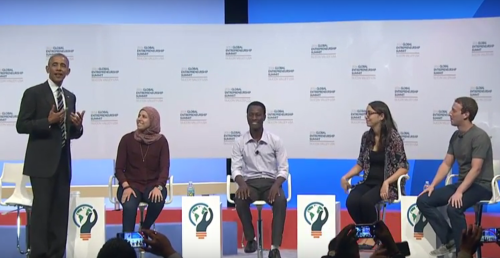 In a panel discussion (starting at 1:45:00), entrepreneurs from around the world talked about the cultural and technical challenges they face. For example, Mai Medhat, chief executive of Egyptian startup Eventtus, said she waited four months to get a second phone line in her Cairo office.
"It's very hard to communicate over Skype" with the company's Dubai office, she said.
At a deeper level, "Facebook was the only way we communicated in the revolution, and it's grown tremendously since then, it's a basic tool now [but] Facebook Basics was blocked in Egypt, so there's a lot to do," she said, citing the Web giant's communications offering for developing countries.
Jean Bosco Nzeyimana, chief executive of Habona, said banks had difficulty evaluating his venture that converted waste into biomass for cooking fuel. He also found it hard to attract employees when he started his company because "the status quo says don't trust someone who is 19 years old," he said.
Mariana Costa Checa, chief executive of Laboratoria, hit difficulties convincing young women in Peru, Chile and Mexico that her company could train them to become Web developers in a few months. "They think it's hard to break cycle of low paying employment," she said, adding that connectivity is still poor outside major cities in Latin America, in part due to a lack of providers.
Connecting people is a big issue, said Zuckerberg, noting "more than four billion people are not on the Internet, [so we need to] try to put Internet access in places people won't get paid for it for years."
Obama used himself as an example of the importance of embracing new ideas. Such openness "is a sensitive subject in some countries, but it's hard to foster an entrepreneurial culture if information is blocked -- top down control is not compatible with that.
"In my 2008 presidential campaign we used the latest [social networking] technology just because 20-year-olds came in with stuff I had never heard of," he said. "If I had tried to maintain control and said we are going with pamphlets because I am used to pamphlets and what goes in them, I might not be sitting here," he added.
— Rick Merritt, Silicon Valley Bureau Chief, EE Times