November's Caption Contest Winners
Caleb Kraft, Chief Community Editor

12/2/2013 04:10 PM EST

2 comments
post a comment
November is always a hectic month, but that didn't stop the comedic forces of the EE Times readership from commenting on our monthly caption contest! A ridiculous amount of fantastically funny responses streamed in, but alas, I can only choose a few winners. Remember that this month, not only does one lucky winner get a colored original of the comic from the talented Daniel Guerda with their caption, we're also giving away 10 of Adafruit's BlueFruit boards!
Let's start off with the winner of the comic caption!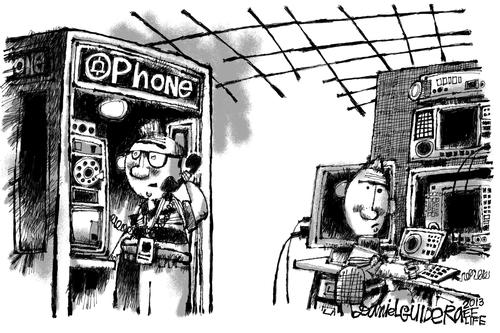 The lucky winner is Wnderer! Wnderer will receive the comic as well as a BlueFruit board.
Here are nine more lucky people who gave us a good chuckle and also get to enjoy a BlueFruit board!
Chris.Wyland: "Customer Service, the next representative will be with you in 5 decades..."
ewohwerd: "Returning to his 1980s policy of communicating solely through phreaked-payphones proved more difficult in 2013 than Harold had imagined. But at least the NSA wouldn't know about his daily prank call to Microsoft tech support."
george@thehornetsnet: "Yeah, Bob was playing with that EMP emitter again. All the digital stuff is dead."
subzerothought: "Bob had been on hold with tech support for several years... He couldn't hang up now!"
zengirl2: "Hello, Adafruit? I'd like to order a Wave Bubble 2010. "
petermetzger: "I'm telling you, if we can just get this thing to take BitCoin, we're gonna make bank!"
NoNickName_#2: "You've got to expect some little idiosyncrasies when your technician's last name is Ludd."
Rick_Hille: "Yes I included an instantiation of a Booth multiplier in this compilation. Why do you ask?"
Don Swaab: "Maybe these decorations will make management realize how small my cubicle is."
All of you winners need to email me your physical address so I can get these boards shipped to you!
For the rest of you, join us for our next contest for your next chance to win! In the meantime, you might enjoy some of our recent caption contests:
— Caleb Kraft, Chief Community Editor, EE Times