Help Predict Robot Apocalypse at EE Live! Alumni/Alumnae Breakfast
Max Maxfield, Designline Editor

3/6/2014 06:25 PM EST

24 comments
post a comment
Last week, as you may recall, I mentioned that I will co-host three Gadget Smackdown sessions at EE Live! 2014. The presenters get five minutes in front of a live audience to present a few slides and describe a cool, fun, and interesting project they have finished, are building, or plan to build one day. I'm really looking forward to this, not the least because I'm going to talk about some mega-cool homemade gadgets of my own. If you are interested in presenting yourself, please email me at max.maxfield@ubm.com, and we'll get you added into the schedule. Don't delay, because this will be a first come, first served type of thing.
But we digress. The hot-off-the-press news is that I've also been invited to host the Alumni/Alumnae Breakfast, which will take place from 8:00 a.m. to 9:15 a.m. on Wednesday, April 2, in Salon 3 at the Marriott Hotel next to the Convention Center. This breakfast is for the alumni and alumnae of any previous Embedded Systems Conference (including Design East and Design West) in the US or any other country.
By "alumni/alumnae," I mean those who have paid for a conference pass to attend the formal presentations and sessions. Simply having registered for a free exhibit pass doesn't count (sad face). Also, bearing in mind that the words "alumni" and "alumnae" refer to former students (of the male and female persuasion, respectively), you aren't eligible if you are paying to attend the conference for the first time this year (again, sad face). On the bright side, if you are paying to attend the conference for the first time this year, you will be eligible to attend the alumni/alumnae breakfast at EE Live! 2015 (happy dance).
All of which leads me to the theme of this year's breakfast, which will be a lively, no-holds-barred discussion predicting the date of the forthcoming Robot Apocalypse.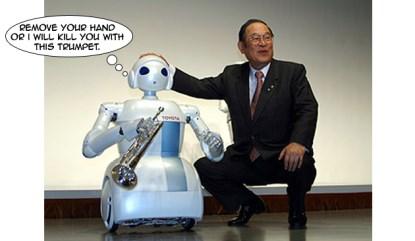 I can't go into too much detail here, because the use of a homemade time machine is frowned upon in certain circles.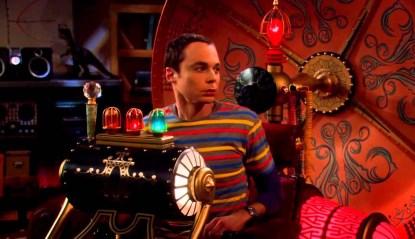 Suffice it to say that things look pretty dicey on a certain Wednesday morning around 9:23 a.m. (Shhh. Don't mention this to anyone. A nod's as good as a wink to a blind horse, as the old saying goes. Of course, I have no idea what this means, but it certainly makes you think, doesn't it?)
The bottom line is that, assuming you are an alumnus/alumna in good standing, and assuming you are planning to attend EE Live! 2014, and assuming the Robot Apocalypse doesn't kick off until after 8:00 a.m. on Wednesday, April 2, I very much hope to see you at the EE Live! 2014 Alumni/Alumnae Breakfast.

Don't forget that EE Live! 2014 All Access passes and Engineering Summit passes are available at the conference's official site with discounted advance pricing. Make sure to follow updates about other EE Live! talks, programs, and announcements on its social media accounts at Twitter, Facebook, LinkedIn, and Google+.
EE Live! and the Embedded Systems Conference are owned by UBM Tech, which also owns EE Times.
— Max Maxfield, Editor of All Things Fun & Interesting

Related posts: