Yoshida in China: Why 'WeChat'
Dramatic shift from Weibo to WeChat
Junko Yoshida, Chief International Correspondent

3/13/2014 01:00 AM EDT

13 comments
post a comment
SHENZHEN, China — Sometimes, the significance of an event happening outside your own personal universe doesn't really hit you 'til you travel, hear what locals are saying, and encounter it firsthand.
WeChat in China is a good example.
I bring up WeChat here, not because I think China's WeChat is so much more wonderful than WhatsApp, which was recently acquired by Facebook for $19 billion. WeChat tickled my fancy because, due to its astonishingly quick rise, it is a microcosm of China. People here, and Internet companies, jump on a social phenomenon en masse, as soon as they sense it's starting to catch fire.
A year ago, Sina Weibo, China's micro-blogging site, was all the rage in China. This year, every friend I have in China and the people I'm meeting for interviews are on WeChat. It's palpable (and almost scary) how quickly Weibo seems to be cooling off.
During our meeting a year ago, Ni Fei, CEO of Nubia, ZTE's sub-brand for high-end smartphones, was all about the million followers he has in Weibo.
The Nubia CEO, committed to selling its smartphones through the Internet, needed to be highly visible on Weibo. In our interview this week, when Ni was asked about his micro-blogging on Weibo, he laughed dismissively: "Nobody goes to Weibo these days."
Ni explained that WeChat is all about communications and relationships among friends and family. People like it. Asked if there is room to promote Nubia on WeChat, he said, "We haven't really figured it out. People seem to like having no advertising or commercial things on WeChat."
Owned by China's Internet company Tencent, WeChat, whose services only began on Oct. 17, 2012, offers free texting, voice messaging, and video calls. Essentially, it's SMS on steroids -- combined with services similar to Skype calls. It functions as Twitter, LinkedIn, Facebook, Foursquare, and Instagram all melded into one. Plus, it's tied to users' credit cards. WeChat lets you shop, game, and even bank.
I've been in China for only four days. But in every interview so far, the executives at startups and established chips/system companies in China inevitably mention Alibaba or Tencent.
The technology companies here seem to believe their highest priority is to get China's dynamic Internet players -- chiefly, Alibaba and Tencent -- on their side, talking them into pairing new services with their new technologies. As the services get popular, so will their chips and boxes, they think.
Red envelopes
What pushed WeChat into near-ubiquity -- close to 600 million users -- is the creation of a "red envelope" app on WeChat for this year's spring festival in China.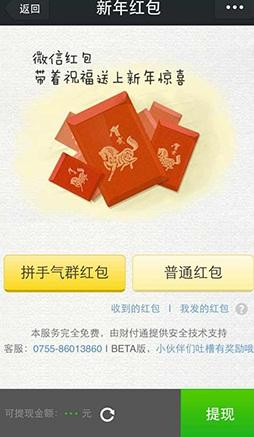 Taking advantage of the tradition in China of handing out red envelopes, containing cash gifts, for the Lunar New year, WeChat invited users to upload virtual red envelopes full of digital cash. This tactic neatly inveigled friends and family members to join WeChat, where they could then hit a button and receive a randomly selected amount of digital cash.
Within nine days of the spring festival, more than 8 million people joined WeChat and some 4 million red envelops were distributed -- digitally.
The lottery-style gimmick in WeChat's red envelope promotion meant that some family members got less than a dollar, while others got $20 or much more. The amount, however, didn't really matter, according to my Chinese friends. "It was fun, and everyone had to act quickly" in order to get his or her share of the cash from a red envelope.
Hail a cab
WeChat also eases the chore of hailing cabs. Hit the cab button on WeChat, and you see on your mobile screen how many taxis are driving around nearby, and how many are receiving your request. When one responds, you seal the deal on WeChat. The driver needs no directions, because you're both on GPS. While waiting, you follow the taxi's approach on your handset.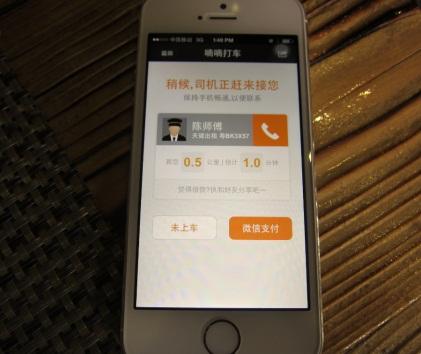 Compare this to hailing a taxi at midnight in Manhattan, and you can really appreciate WeChat.
Besides its convenience, some of my Chinese friends like WeChat because it's "intimate."