Tiny Generator Uses Heat to Power Wearables
Pablo Valerio, International Business & IT Consultant

5/7/2014 10:15 AM EDT

5 comments
post a comment
Unlike most people today, I still wear a wristwatch. I bought it six years ago in Japan, and the great thing about my Citizen Eco-Drive is that I've never had to change the battery: It runs on a solar-powered rechargeable battery.
We're all used to plugging in our devices overnight, and sometimes during the day, to make sure they have sufficient power. But sometimes we forget, and suddenly our beloved gizmos die when needed most.
Now, with a new wave of wearable technology arriving like a whirlwind, we're facing more technology that needs frequent charging. Although most smartwatches and fitness bands popping up in the market today do not require daily charging, eventually we'll forget to plug them in, and they'll run out of juice.
An innovative solution from a team at the Korean Institute of Science and Technology could hold the key to powering wearables continuously, using the wearer's own body heat as a generator. The Korean team, led by Byung Jin Cho, has designed a new light and flexible generator made out of thermoelectric (TE) substances printed on glass fabric.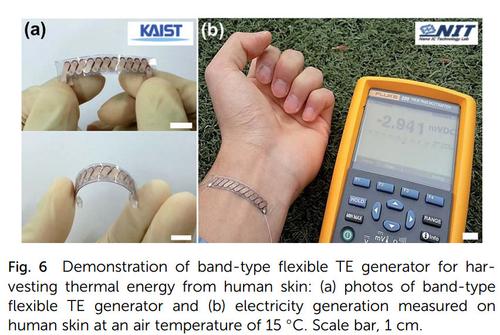 The output power per unit weight is remarkable (28 mW/g at 50 K) and could be used to provide enough energy to charge a smartwatch.
For example, the Sony SmartWatch 2 promises three days to one week battery power depending on use, but in reality, to be fully functional it needs to be charged every other day. The watch uses a Li-polymer 140 mAh battery. If you installed a slim TE strip on the SmartWatch wristband, it could power the watch and enable it to function without the user worrying about the battery dying.
The concept isn't new. For years researchers have been looking at ways to harvest body heat and produce electricity, but the size and weight of the devices, and the limited amount of power collected this way, made the technology ineffective for commercial use -- until now.
What's new about the Korean design is its use of a "glass fabric-based textile," which is made by screen printing on inorganic materials, and its use of a self-sustaining structure of a TE device without top and bottom. According to the paper, the developed device not only achieves unprecedentedly large output power density but also "can be bent as low as 20 mm without change in performance upon repeated bending for up to 120 cycles." The team concludes: "The output power per unit weight is remarkable (28 mW g-1 at a ΔT = 50 K), and this will facilitate its use in applications where the weight of the TE device is critical."
If further tests are successful, we should start seeing wearable devices, such as the Sony SmartWatch or Samsung's Gear, without the need of external charging early next year.
— Pablo Valerio is a freelance blogger who writes about mobile and telecom issues for EE Times. He lives and works in Barcelona.