Altera's Mysterious MAX 10 FPGAs
Max Maxfield, Designline Editor

5/30/2014 03:20 PM EDT

1 comments
post a comment
Well, you can only imagine my surprise and delight to hear that Altera has named an entire family of FPGAs after me. I am, of course, referring to their MAX 10 FPGAs. These little beauties will augment Alteraís Generation 10 product portfolio with a low-cost, low-power non-volatile FPGA based on 55 nm embedded flash technology.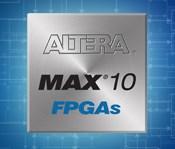 The reason I say "will augment" is that MAX 10 FPGAs arenít actually available at this time. In fact, if the truth be told, I know next-to-nothing about them. All I do know is that they are targeted at the automotive, industrial, and communications markets, and that actual silicon is scheduled to be available to customers in the second half of 2014.
In the meantime, Altera has announced the availability of Quartus II beta software and early access documentation for MAX 10 FPGAs. Qualified customers enrolled in the MAX 10 FPGA early access program are able to get a jumpstart on their designs by running design compilation and timing analysis using Quartus II software. As the folks at Altera say: "The availability of early software is especially helpful to customers with longer design cycles who do not require silicon at this time."
A software license and download is available by contacting a local Altera sales representative or by clicking here. The folks from Altera say that they will announce comprehensive details on MAX 10 FPGAs once the devices and associated development kits are broadly available in Q3 2014. Until that time, they will remain shrouded in mystery...
Related posts:
— Max Maxfield, Editor of All Things Fun & Interesting