Micro Python Preps for Mass Production
Cabe Atwell, Contributing Editor, Design Hardware & Software

7/18/2014 04:00 PM EDT

7 comments
post a comment
Micro Python is priming the presses. After smashing its Kickstarter campaign, the programming platform is almost ready to release its Micro Python boards into the public market.
Python is known for its ease of use and simplistic style. Although the programming language got its start in the early 1990s, it is still one of the most popular technology tongues used today. It's no wonder that, when word got out that Python was marrying the microcontroller, everyone RSVPed.
Damien George launched his Kickstarter campaign last fall for the Micro Python project, looking to raise £15,000 ($25,600) in funding. By December 2013, the campaign proved wildly successful, and Python enthusiasts dished out ₤97,803 to support the production of the software and microchips. And it's no wonder; it's a pretty wicked mini computer.
The Micro Python board is based on the STM32F405 microcontroller. It comes ready for Python programming and is one of the fastest on the market, running 168 MHz, with 1 MiB Flash and 192 KiB. The board measures up at 33 mm x 40 mm, and with top-of-the-line processing speed and storage, it can handle complex scripts and functions, too.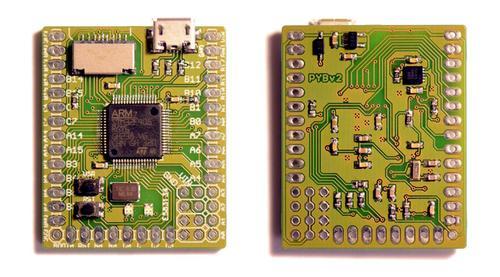 The Micro Python board has a built-in interface for USB and functions much like a storage device. Programmers can write their Python scripts directly on to the battery-operated board, and once stored, the Micro Python board will function entirely independent of a PC.
This blog continues on EE Times sister site Design News.