NIís System-on-Module Technology Aims to Reshape Embedded Market
Subarna Talukder

7/21/2014 11:20 AM EDT

0 comments
post a comment
National Instruments (NI) has just released a complete middleware solution for embedded technology across verticals that it claims will help drastically cut down the time and cost required for developing embedded solutions.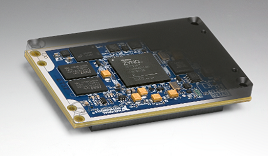 The system-on-module (SOM) comes with an embedded OS software, graphical user interface, and I/O programmability to develop applications across many industries.
At the Indian product launch at the eighth annual ESC event in Bangalore last week, Joel Shapiro, leader of strategic marketing for emerging markets, said, ďThe NI System on Module, combined with powerful LabVIEW libraries, enables engineers to transform their ideas into embedded products faster than any other tool available on the market.Ē
He pointed out that the SOM could not only be used for making smart devices in healthcare, aerospace, and energy but also employed to bridge design, prototyping, and deployment with a single platform. The firm claims that the design to prototype stage for embedded design engineers will be shortened to one-tenth the time and cost compared to traditional methods. This makes it attractive for small design and engineering firms and startup firms, which cannot afford the high costs of traditional platforms.
The platform comes with a built-in Xilinx Zynq All Programmable system on a chip (SoC) with supporting components such as memory on a small PCB and features a complete middleware solution and ready-to-go, Linux-based, real-time operating system (RTOS).
Commenting on the reason behind NIís global launch of the product in India Joel said, ďThere is a huge implication of this in India. We have worked closely with Chennai-based Healthcare Technology Innovation Centre [HTIC] in one of their pilot projects to help create a smart device to detect arterial stiffness.Ē
This is of great significance in a market like India, as nearly 10% of the Indian population is affected by cardiovascular disease, and detecting it at an early stage could help prevent many problems. The platform has been extensively tested by HTIC to develop ARTSENS, which can be used to detect and measure arterial stiffness among patients suffering from cardiovascular disease. The Centre at present is developing a hand-held version of ARTSENS.
By integrating NIís intelligent computing module, HTIC has developed this prototype device. Dr. Jayaraj Joseph, systems architect at HTIC, said, ďNI's graphical design tools have helped HTIC to rapidly develop functional, field-testable proof-of-concepts in the healthcare space that involves a variety of stakeholders. NI SOM has now allowed HTIC to take these functional prototypes to mass-deployable solutions.Ē
SOM could also be used to create smart manufacturing centers. Airbus, the aircraft manufacturing company, has developed a smart device, which helps it in raising the efficiency in manufacturing airplanes, with NIís SOM. Shapiro said that Airbus has used this technology in cutting down the number of tools it puts in a typical aircraft. In a typical aircraft, Airbus required close to 1,100 tools for fixing screws with specific torque dimensions. With NIís technology, this has now come down to just 330 tools.
ďWe have evaluated several SOMs and embedded SBCs, and there is no comparison to the software integration offered by NI,Ē said Sebastien Boria, R&D mechatronics technology leader at Airbus. NIís embedded Linus RTOS and LabVIEW FPGA have helped reduce the development cost by one-tenth for Airbus.
Joel Shapiro said that NI is currently working with ten industry verticals to develop smart objects of the future.
This article originally appeared on EETimes sister site TechOnline India.