In Search of Bleriotís Plane and Foucault Pendulum
Junko Yoshida, Chief International Correspondent

8/25/2014 09:00 AM EDT

23 comments
post a comment
PARIS — If you've enjoyed the experience of tracing 50 years of the Silicon Valley tech revolution at the Computer History Museum in Mountain View, Calif., the Musée des Arts et Métiers in Paris -- which showcases mankind's last 500 years of technology innovation -- will fry your transistors.
The focus here is on materials, mechanics, and scientific instruments, and how technological advances have been applied to the development of energy, transportation, construction, and communication systems.
Put simply, most of the groundbreaking inventions and instruments engineers have come to appreciate, put to use, and still admire are here. Forget this is a French museum. Although most of the explanations are in French (some, however, do come with English translation), you'll feel right at home. If you have any engineering background at all, this is your museum.
The collections range from the Foucault pendulum and Pascal's calculating machine to Bleriot's plane and Lavoisier's laboratory.
Details of tools and machinery on display here make you realize the fundamental beauty and precision inherent in science and technology.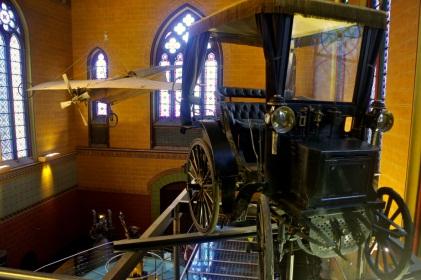 Equally impressive are a number of flying machines and horseless carriages hanging from the museum's vaulted ceiling, which is an added element of both reverence and beauty. The museum is housed in once a deserted medieval monastery, the Priory of Saint-Martin-des-Champs.
A visit here is a chance to commune, spiritually and palpably, with the inventors and pioneers who have made today's technological careers possible.
The museum is located at 60, rue Réaumur in Paris's 3rd arrondissement. But don't go on May Day or Christmas. It'll be closed.