IoE: Internet of Earthquakes?
Jessica Lipsky, Associate Editor, EE Times

9/2/2014 05:30 PM EDT

10 comments
post a comment
It seems I left California just in time.
While I took a leisurely bike ride around Boston during the morning of Aug. 24, my best friend texted me much too early for California time. She'd been startled awake by an 6.0 magnitude temblor that hit north of the San Francisco Bay Area, causing 170 injuries and millions of dollars in damage. According to a popular IoT device, millions also lost sleep.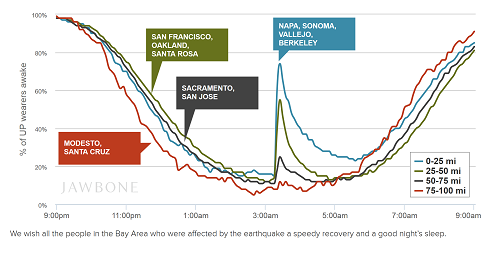 Data scientists at Jawbone recently published findings on the quake's effect on sleep. Ninety-three percent of Jawbone UP wearers in Napa, Sonoma, Vallejo, and Fairfield -- all of which are less than 15 miles from the epicenter -- woke up at 3:20 a.m. when shaking began.
Farther from the epicenter, the impact was weaker and more people slept through the shaking. In San Francisco and Oakland, slightly more than half (55%) woke up. As we look even farther, the effect becomes progressively weaker -- almost no UP wearers in Modesto and Santa Cruz (and others between 75 and 100 miles from the epicenter) were woken up by the earthquake, according to UP data.
Jawbone also reported that users/residents near the epicenter of the quake took a long time to go back to sleep. Forty-five percent of UP wearers less than 15 miles from the epicenter stayed up the rest of the night.
The company hasn't published data on the many aftershocks that have luckily been low magnitude, but the ability to monitor and catalogue the initial impact is pretty startling. While I don't really like the idea of a (perhaps mad) data scientist slogging through my sleeping habits -- which, I admit, are pitiful and grossly underutilized -- such data could be extremely helpful in the event of another natural disaster. Assuming Jawbone knows the number of people using its devices, and can pinpoint them on a map alongside their normal habits, a drop-off in sleep at a particular location could alert the company or family interested in monitoring a user in distress. Pretty cool if your house in Oakland lies right on a fault.
Although I write about the growing Internet of Things/Internet of Everything on a daily basis, I often wonder what the point is. While creating graphs about sleep loss may not amount to much, the use of data and monitoring could be imperative when the next big one hits.
— Jessica Lipsky is an associate editor on EE Times and a Californian spending her summer in New York.