A Taste of LabVIEW
Martin Rowe, Senior Technical Editor

9/22/2014 06:30 PM EDT

0 comments
post a comment
National Instruments' LabVIEW was the very first test-and-measurement product I saw after joining Test & Measurement World in 1992. That was the year LabVIEW made its debut on Windows V3.1 after previously been available only on the Apple Mac platform. Although I've seen many LabVIEW demonstrations since then, I never get to try it myself. So, when National Instruments offered a free LabVIEW workshop at its Worbun, Mass. office, I gave it a try.
I gave two sessions on September 18 and I attended the morning session. Learning LabVIEW is an enormous undertaking and if you're going to learn to use it, you should start with a weeklong training class. This three-hour workshop will give you an idea what LabVIEW is all about, but it barely scratches the surface.
The Woburn training center has eight LabVIEW demo stations, each consisting of a laptop PC connected to a case. Each demo case has a CompactDAQ system with analog and digital I/O modules (Figure 1). One input module connects to a thermocouple, another to a strain gage, and another is a general-purpose voltage input. A separate signal source provides test signals such as sound and vibration. You can see the signal sources and I/O modules in Figure 1. A digital I/O module drives eight LEDs so you can learn how to make decisions and take action. Ni also provides an exercise book containing several exercises with step-by-step instructions, too many to do in three hours so I started with the thermocouple exercise. You can't take the books with you, but a PDF version is available on the laptop for you to copy or email. I emailed a copy to myself.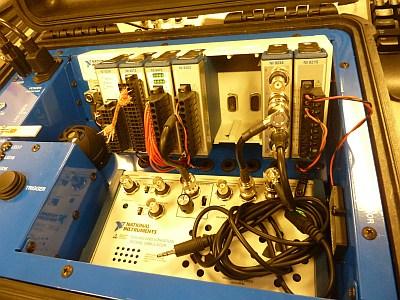 An NI applications engineer opened by explaining what LabVIEW is and then showed us how to start with the NI-DAQmx driver to verify that the CompactDAQ modules worked. NI-DAQmx is more than just a low-level instrument driver. It includes a LabVIEW application programming interface (API) that you can also use as stand-alone applications. That is, NI-DAQmx comes with LabVIEW code known as Virtual Instruments (VIs). Each VI consists of a user control panel and underlying source code. VIs can be arranged into a hierarchy where a high-level VI calls another VI that might contain code to talk directly to the driver. Figure 2 shows that the NI-DAQmx driver VIs include graphs and controls.