Dissecting Phase Change Memory: Atom by Atom, Bond by Bond
Ron Neale, Independent Electrical/Electronic Manufacturing Professional

6/30/2016 11:00 AM EDT

0 comments
post a comment
The innovative application of a mix of simulation techniques has provided a team at IBM with a unique ability to view the connection between atomic bond type, drift and electrical conductivity in PCM devices. Results overturn some old ideas of band gap expansion.
In a recently published paper Federico Zipoli and colleagues Daniel Krebs, Alessandro Curioni of IBM Zurich have adopted a different and more fundamental approach to understanding the problems of drift and resistance changes in phase change memory (PCM).1 An approach that looks at drift from the perspective of atomic bonding with a view to eventually provide that as a basis for ways to engineer material compositions to deal with the problem of drift and other PCM characteristics. A different approach that is from the one which found clever and innovative ways around the problem as was demonstrated for 3bits/cell PCM-MLC.2
The starting point for this latest work was the composition germanium telluride (GeTe), important because most PCM memory compositions have at the core some GeTe, any other materials might be considered as the wrappers in whatever role they are claimed to play. Until now low-field electrical transport in amorphous phase-change materials was usually accounted for by trap-limited band transport at room temperature with the increase of resistance resulting from an increase of the activation energy of conduction and the widening of the band gap.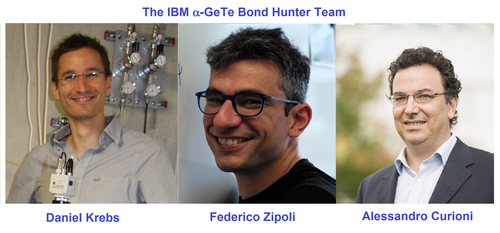 The IBM team set themselves the target of using simulation to identify the cause of drift in amorphous GeTe and the increase in its activation energy of electrical conduction and more specifically the type of bonds responsible. This required finding a means of overcoming the limitations of the existing approaches to simulation at the atomic level. Those limitations are the need for computation power and even given that, sufficient time.
While calculations based on density-functional theory (DFT) have been used to study PCM materials and are capable of providing an accurate model of the structural and electronic properties, it has limitations. DFT is computationally demanding and provides only relatively short time scales limited to 1ns for a few 100 atoms, compared to the longer time scales of drift. Although DFT was still able to play some role in what followed.
This moved the IBM team in the direction if classical molecular-dynamics (MD) simulations as a means of providing deeper understanding of the mechanism responsible for the drift in PCMs. With it comes the possibility of modelling system sizes and time scales closer to reality.
Obtaining the amorphous structures. The initial part of the work involved analysing amorphous structures obtained by quenching simulation. The quenching simulations used 108 GeTe units consisting of 216 atoms in 18.521 Angstroms cubic box. In the simulation the ensemble was heated to 1000K. The temperature was then reduced in discrete steps of 10 K from 985 to 300 K with each simulation for all steps lasting a total time of 4 ns.
A time of 4 ns corresponds to the real conditions typically used to program phase-change memory cells into the high-resistive amorphous RESET state. The authors remind us it has been shown that the quenching rate critically determines in which state the glassy state is frozen, so was crucial to be as close as possible to real device time scales.
The quenched samples obtained via MD were optimized via DFT and then analysed via what is called a Wannier-functions (WF) scheme.3 In short this procedure provides a powerful tool for an unambiguous characterization of the bond network. It allows the center of charge of the known as the Wannier center (WC) see Figure 1(b) to establish if or not two atoms are connected by a bond. Wannier centers can also be used to identify the presence lone pairs (LP.). In the illustrated example the WC is closer to the tellurium atom, because it is more electronegative than the Ge atom. It is important to be able to identify real bonds because in amorphous materials there will be many atoms close together that do not form covalent bonds.
Figure 1(a) shows the structure of crystallized GeTe, with Ge and Te both threefold coordinated with a lone pair, where the Wannier centers are marked as light blue spheres and lone pairs in green.
Figure 1(c) are a few examples of some of the major defect features found in amorphous GeTe. (Left) is a distorted box-like structures with strained bonds, a distorted crystal structure. Then (middle) an example of four fold co-ordinated germanium and on the right an example of atoms close together in the structure but not forming a bond. The thin lines are other bonds not highlighted. The role each plays in the electrical conductivity is discussed in later paragraphs.
As well as access to computation power underpinning all this work is a piece of IBM proprietary software called TERSMD that is able to deal with interatomic bond potentials and the differences between bond angles. It is based on the work of Tersoff,4 who introduced the idea of an ordering of bond strength and the fact that bond strength is not constant and any realistic simulation must deal with that variable.