The Engineering Life - Around the Web
Donít Forget to Wave at Saturn
Max Maxfield, Designline Editor

7/19/2013 04:45 PM EDT

24 comments
post a comment
The clock is counting down for our once-in-a-lifetime chance to wave when the Cassini deep-space probe takes images of Saturn. When it does, we will be in the picture.
I received an email from Arthur Smith, a chum of mine in England and one of the world's foremost experts on cosmic rays. He's the person I go to if I have any questions on them, but I'm not sure why I do this, because I never understand any of his answers. He does try to simplify things for me, but his idea of simple is my idea of Sheldon from The Big Bang Theory explaining superstring theory.
Smith emailed me to remind me that today (July 19, 2013) the Cassini probe is poised to image the whole Saturn system as it is backlit by the sun. As you can see in the simulated image below, Earth will be in the picture.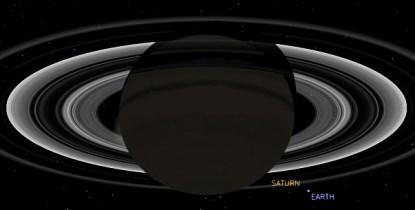 NASA and the Jet Propulsion Laboratory are suggesting that we all go outside and wave at Cassini's cameras at the appropriate time. I hope they get my good side.
Of course, this is all in fun. The entire Earth will be no bigger than a pixel or two at that range (898 million miles or 1.44 billion kilometers, give or take a smoot or two). It's the thought that counts. Nevertheless, I know that I will be out there waving at exactly 4:27 p.m. Central Time. That time takes into consideration the fact that light from the Earth will take approximately 80 minutes to reach the cameras on the spacecraft.
And don't forget that you read about it first on EE Times.
Related posts: