Industrial Control DesignLine Blog
Fast Track to Industrial IoT
Rich Quinnell, Editor

11/21/2016 00:00 AM EST
0 comments
post a comment
It fits in a shirt pocket, runs on batteries, and provides a quick way to upgrade to Industry 4.0.
Industrial monitoring and control is a significant application for the emerging Internet of Things (IoT), one with a clear potential for a significant return on investment. But retrofitting legacy industrial systems with networked monitoring and control devices can be a significant design challenge for factory owners and OEM providers alike. A new development platform from Maxim Integrated looks like it can provide a lot of help.
Maxim's Pocket IO PLC development platform simplifies and speeds Industrial IoT design by providing a powerful, compact, low-power, networkable monitoring and control unit with which factories can experiment using the IoT and developers can prototype their designs. As a stand-alone product, it offers 30 analog and digital IO ports in various flavors for making measurements, attaching sensors, and driving industrial systems—including motors and other inductive loads—in a daughterboard attached to an Intel Edison processor module. USB and Wi-Fi are both communications options, as are several fieldbus options, providing a range of connectivity options. For power, the Pocket IO can operate from onboard AA batteries or external DC through 42 V. It is also compact, measuring 3.5 x 3.5 x 0.8 in., and environmentally rugged, using parts rated for –40°C to 125°C.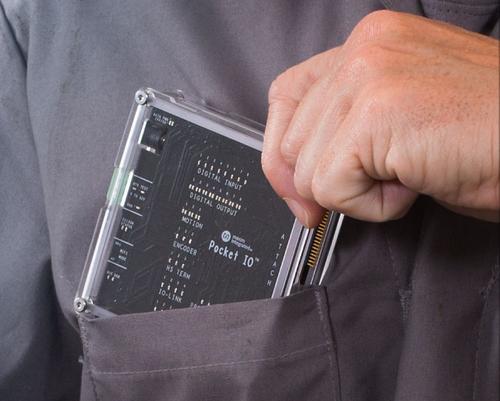 Together, these attributes make it easy for experimenters to connect the device to existing systems to explore the industrial IoT's potential in actual factory conditions. To further simplify such explorations, the device is programmable using Arduino sketches and can be configured and controlled using a smartphone app. The smartphone also serves as a graphical interface to the design. Thus, experimenters can quickly develop and try a variety of configurations to see what will work best for them.
The platform also supports prototyping for a more robust development effort following the experimental stage. In addition to allowing Arduino Sketch development, the platform has the support of Intel's Edison Eclipse IDE tool chain under Windows, Linux, or MacOS. All of the key semiconductor elements used in the daughterboard design, such as the high-side drivers, digital isolators, and power converters, come from Maxim, so developers working with the board only need to interact with a single source of vendor support.
This is not a complete IIoT system solution, however. While the platform has Wi-Fi connectivity, there is no cloud connectivity. The platform interface for experimentation and prototyping is a local smartphone. Developers seeking internet connectivity will need to include software for networking, security, and cloud services on their own. Still, the platform provides a vital leg up in the development of the edge node of their IIoT system.
This kind of platform may be just what companies interested in the IIoT need to get their projects started. More than 80% of large companies have indicated that they believe the IIoT will be essential to their future success, but only 24% have a clear IoT strategy, according to a Genpact research study. The rest are blocked by concerns about such things as handling legacy equipment, an inability to do fast experiments, and lack of appropriate skills in their IT staff, among other things. An out-of-the-box development platform like this helps to bypass such concerns. It could prove to be the key that unlocks the IIoT for industrial applications that currently remain uncommitted.
—Rich Quinnell covers industrial control for EE Times. Contact him at richard.quinnell@aspencore.com,