Hello. We were unable to find the address you requested. You may search for the content you are seeking using our search form or email technical support with any questions.






4/19/2015
8:56:17 PM
March 2015 Cartoon Caption Contest: Mountain Climbing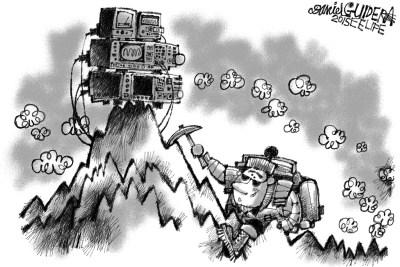 The mountain had formed millions of years before when two tektronix plates collided.

208 comments

Frankenstein's Fix, Teardowns, Sideshows, Design Contests, Reader Content & More

Full Human Head Transplant May Be Closer Than You Think
Max Maxfield 1 Comment
Did you ever see the Star Trek episode Spock's Brain? The idea is that aliens remove Spock's brain from his body and insert it into a box that keeps it alive and that is tied into a ...

When Coding Errors Can Kill
Rich Quinnell 4 comments
Would you trust the design of a detonator to your coding skills? How about the design of the controller running the code? Talk about safety-critical design!

A Book For All Reasons
Bernard Cole 3 comments
Robert Oshana's recent book "Software Engineering for Embedded Systems (Newnes/Elsevier)," written and edited with Mark Kraeling, is a 'book for all reasons.' At almost 1,200 pages, it ...

Leonard Nimoy, We'll Miss you
Martin Rowe 5 comments
Like many of you, I was saddened to hear the news of Leonard Nimoy's death. His Star Trek character Mr. Spock was an inspiration to many of us who entered technical fields.
Datasheets.com Parts Search
185 million searchable parts
(please enter a part number or hit search to begin)